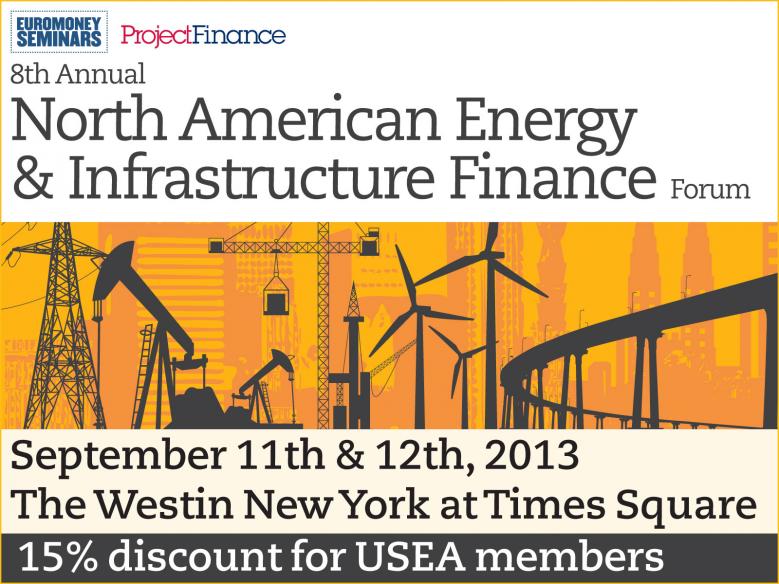 8th Annual North American Energy and Infrastructure Finance Forum
Now in its 8th year, Euromoney Seminars and Project Finance Magazine's Annual North American Infrastructure and Energy Finance Forum is widely recognized as the key event in the calendar for the project finance community and the one event not to miss. Once again, this event will bring together leaders in infrastructure and energy finance to discuss latest industry developments and the innovative market strategies needed to get deals done. 
This conference is distinguished as connecting the world of infrastructure and energy and creating the most diverse and innovative event for networking in North America.
Register now for the 8th Annual Infrastructure and Energy Finance Forum and benefit from:
• In-depth analysis and debate on the key issues and trends affecting the industry: Stay ahead of the game in a growing and thriving market   
• Unrivalled networking opportunities with sponsors, developers, financiers, lawyers and government officials: Meet the who's who of the industry and help grow your business  
• Ground-breaking knowledge and thought leadership: Learn from the success of demonstrated project models through in-depth case studies
Topics to be discussed include:
-How are infrastructure debt funds, pension funds and insurance companies offering long-term funding solutions for projects?
-The search for yield: Will the market continue to see more leveraged deals with term -loan B in 2014?
-Why have solar projects been more successful than wind projects in accessing the bond markets?
-LNG terminals: Financing infrastructure for export
-What is driving the growing role of regional banks in North America's mini-perm market?
-Drawing from deal experience to finance new airport projects
-What role can bank debt play in financing North American infrastructure?
-Department of Transportation panel: What is the most effective strategy for developing infrastructure?
-How can social infrastructure projects benefit from the PPP approach?
-US bridges: How are project delivery methods performing?
-Using PPPs and private finance to develop North American waste and water assets
Expert speakers confirmed include:
Robert K. Simmons, Managing Director, Chief Financial Officer and Treasurer, Panda Power Funds
John H. Foster, Executive Vice President, Competitive Power Ventures
Kerri L. Fox, Head of Project Finance North America, BBVA
Duane Callender, Director, TIFIA Credit Program, US Department of Transportation 
Sarah Wu, Senior Investment Officer, Infrastructure Debt Group, J.P. Morgan Asset Management
Gregory Remec, Senior Director, Global Infrastructure and Project Finance, Fitch Ratings
Philippe Dartienne, Chief Financial Officer, United Water
Joe Tomashosky, Vice President Finance - Business Development, Veolia Water North America
Doug Lavelle, Vice President, Wilmington Trust
Juan Santamaria, Chief Executive Officer, ACS Infrastructure Development, Inc. 
David Tyeryar, Deputy Secretary of Transportation, Commonwealth of Virginia
Dale Bonner, Chairman, Plenary Group USA
Gregory A. Van Dyke, Chief Financial Officer, Tenaska
Richard Roloff, Vice President, Finance, LS Power Development
Anne Rabin, Senior Vice President, Hochtief PPP Solutions North America
Sonia M. Axter, Managing Director, Infrastructure Investments, ULLICO Investment Company
Pete Houghton, Senior Manager, Airport Affairs, Southwest Airlines
James Bennett, Senior Vice President Business Development, Kiewit Development Company 
Robert Keough, Managing Director, Bond and Corporate Finance Group - Alternative Assets, John Hancock Financial Services
Brett A. Challenger, Senior Vice President, Energy & Water Services Banking Division, CoBank
Adam Umanoff, Partner, Akin Gump Strauss Hauer & Feld
Shawn C. Bunting, Vice President & General Counsel, American Water Enterprises, Inc.
Nick Cleary, Director, Infrastructure Debt, Hastings Funds Management (USA)
Alejandro Veramendi, Project Finance Director, Cintra US
Will Marder, Global Product Manager for Project Finance, Deutsche Bank
Richard Langberg, Executive Director, Project Finance North America, BBVA
Joseph Seliga, Partner, Mayer Brown
Mark B. Florian, Managing Director, Head of Infrastructure, First Reserve 
Tara Mackay, Partner, Torys LLP
Bill Harrison, Executive Director, Project Finance North America, BBVA
Emmett McCann, Partner, Highstar Capital 
Bryan Kendro, Director, Office of Policy & Public Private Partnerships, Pennsylvania Department of Transportation (PennDOT)
Samara Barend, Vice President, P3 Development Director, AECOM Capital 
Arthur A. Cohen, Partner, Haynes and Boone, LLP
John Eber, Managing Director, Energy Investments, JP Morgan 
Andrew Ancone, Managing Director, Macquarie Capital
Christopher Yonan, Director of Project Finance, Barclays Capital
Patrick Trears, Director Infrastructure Debt, AMP Capital 
Thomas Murray, Managing Partner, Austin Partners LLC
Olivier Garnier, Chief Operating Officer, Meridiam Infrastructure North America
Here is what past delegates had to say:
"This event provides an excellent overview of activity in the bank and bonds markets, presented by leading industry experts" 
-Will Marder, Deutsche Bank
"The 7th Annual North American Infrastructure and Financing Conference was well attended, provided excellent networking opportunities and the opportunity to showcase our project" 
-Kevin Hemenway, Knik Arm Bridge and Toll Authority
"Great event with good networking opportunity" 
-Chris Frost, Riverside Risk Advisors