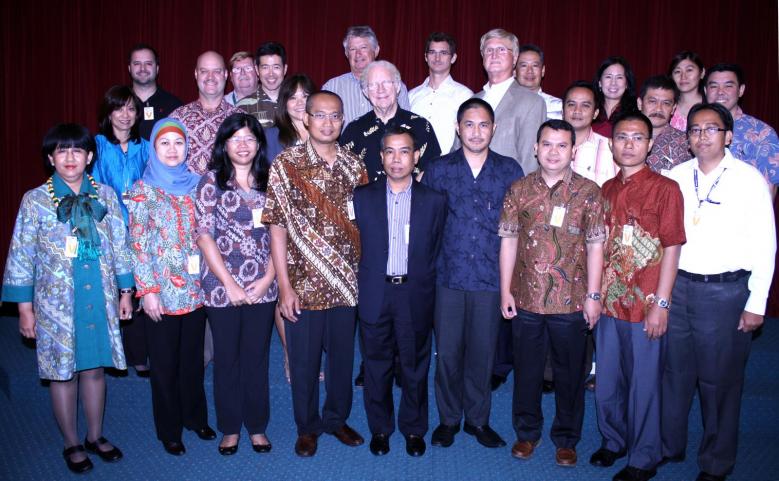 PLN Indonesia Exchange on Clean Energy Development
HONOLULU AND KAHULUI, HI – Under the Energy Utility Partnership Program (EUPP) and the Indonesia Clean Energy Development Program (ICED), funded by the U.S. Agency for International Development (USAID), the U.S. Energy Association conducted an Executive Exchange on Clean Energy Development from April 13 to 20, 2013.  Nine senior managers from PT PLN Persero (PLN), the Indonesian electric utility, traveled to Oahu and Maui for meetings with Hawaiian Electric Company, Maui Electric Company, First Wind, H-Power, Hawaii Public Utilities Commission, Hawaii State Energy Office and SunPower.
PLN is the national electric utility for Indonesia, owned by the Government of Indonesia.  PLN is a vertically-integrated utility serving over 46 million customers.  PLN owns approximately 85% of the installed power generation capacity in Indonesia, while independent power producers (IPPs) own the remaining 15%.  The total generating capacity for Indonesia is 30,583 MW.  The generation fleet is powered by coal, gas, oil hydro and geothermal.
In response to rising electricity demand, a distributed population and high and volatile fuel costs, Indonesia has set an aggressive renewable energy development plan, with a goal of 12 GW of new additional renewable energy generation planned by 2020, including solar and wind.  With such a high penetration of intermittent renewable resources on isolated island grids, PLN is preparing to face the challenges of maintaining grid stability and reliability.  In order to identify best practices in renewable energy integration, PLN delegates met for five days with Hawaiian utilities, regulatory bodies, state energy agencies and energy companies.
The Energy Utility Partnership Program (EUPP), funded by USAID, seeks to increase access in USAID-assisted countries to environmentally sound energy services.  EUPP activities include seminars, workshops and executive exchanges that promote the transfer of utility best practices.
USEA and ICED organized the utility executive exchange, which was sponsored by USAID.  USAID's Indonesia Clean Energy Development (ICED) project works with the Indonesian government agencies (central, provincial, and local), the electric utility (PLN), non-governmental organizations, communities, universities, and the private sector to provide support for Indonesia's clean energy objectives.
For more information, please contact Andrew Palmateer at 202-312-1230.