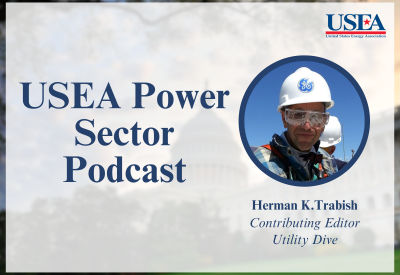 The USEA Power Sector Podcast is bringing new voices and new ideas to key electricity system controversies in 15-minute interviews targeting urgently needed solutions. Topics will range from when, where, and how generation and transmission should be expanded to what resources and technologies are needed to ensure distribution systems remain reliable.
The podcast is airing the voices of those building and implementing tomorrow's electricity system and of the policymakers who, in response to consumer demand, are setting the goals for a renewed power sector. It will also feature regular check-ins with state and federal agencies like the Department of Energy and public utility commissions to see what they are doing to drive and support change.  
The podcast will draw on USEA's diverse technology- and business-oriented members now caught up in today's sweeping changes of the way energy is harvested, used, and paid for. And it will draw on USEA's international membership to link U.S. challenges to those facing the rest of the world.
Check back here on Wednesdays for new episodes!