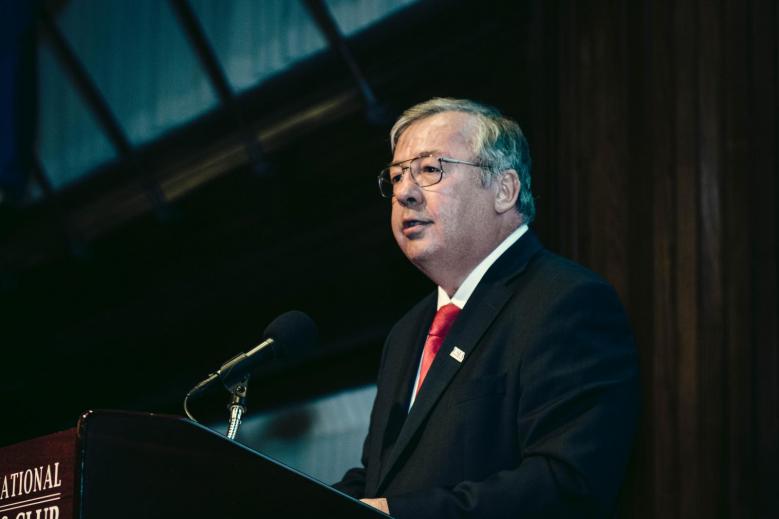 USEA Announces Passing of Executive Director Barry Worthington
USEA Chairman calls Worthington "an extraordinary leader"
Washington, D.C. – It is with profound grief, we announce the death of our executive director, Barry Worthington, who passed away Friday at his home in Maryland.

Worthington leaves behind his beloved wife, Louise and their two children, Barry and Kerry.

Further announcements will be made in due course.

In a statement, USEA Chairman Sheila Hollis said:

"It is impossible to completely articulate the grief we feel at this moment about the loss of Barry Worthington. We feel his absence acutely; he was our family, our champion. Barry was a remarkable leader, and his absence reverberates among us all.

"As a proud Penn State graduate, Barry's grit, understated determination, and humility underscored his loyal leadership and distinguished manner.

"After he graduated from Penn State with a Bachelor of Science degree in Man-Environmental Relations, Barry earned a Master of Science degree in Studies of the Future from the University of Houston.

"He started his career in Houston, at what was then Houston Lighting & Power, now CenterPoint Energy. Barry used to joke about how he chose Houston because it was the 'opportunity in the warmest climate.' While he was at home in the energy capital of the world, he brought his commitment to the energy business to Washington, D.C. 30 years ago to build the U.S. Energy Association. He built a legacy.

"USEA evolved to become the influential nonprofit which serves to support the U.S. federal government's dedication to bring energy access to millions of global citizens without it. Under Barry's leadership, USEA became the central convening force and educational platform in the U.S. energy community, bringing together a spectrum of energy leaders.
"We often say the energy community is a 'small' one. Yet it is vast and intricate, and it can be dauntingly complex. Barry embraced that complexity. He was a diplomatic yet unapologetic pragmatist. Barry circumvented political polarity. He sought common ground among stakeholders, and he valued partnership.
"His contribution to the domestic and international energy sector is unparalleled, and his vision and success for USEA, improving the lives around the world, is the cornerstone of that legacy.
"We mourn the death of Barry and extend our deepest condolences to the entire Worthington family."
###