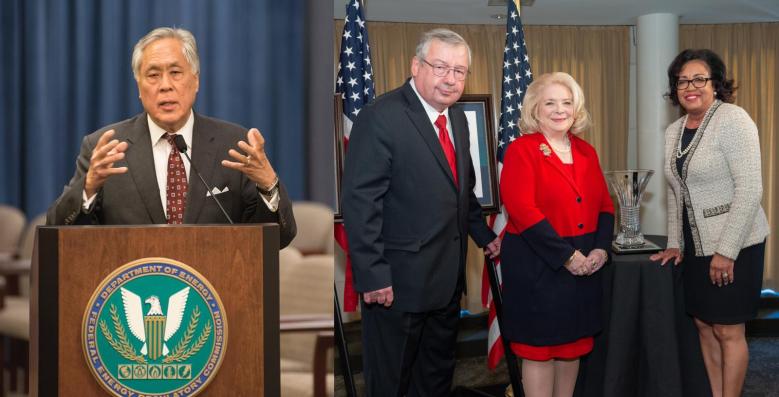 USEA Board of Directors Elects New Officers
USEA Board of Directors Elects New Officers
Washington, D.C.­—The U.S. Energy Association's Board of Directors has elected a new Chairman and Treasurer.
Celebrated energy attorney, Sheila Slocum Hollis, partner at Duane Morris is the new USEA Chairman, and Robert "Bob" Gee is USEA's new Treasurer.
The USEA Board voted just ahead of the Annual Membership Meeting & Public Policy Forum late last month.
In remarks following the election of the new officers, USEA Executive Director Barry Worthington said,
"USEA is lucky to have two energy industry stalwarts leading the USEA Board. I have known both for many years, and both have contributed to our sector in innumerable ways.
"I would also like to thank and recognize Vicky Bailey, our outgoing chairman who served for 6 years. Vicky is a strong leader, and she presided as chairman during a time of rapid expansion at USEA. Her experience and expertise were instrumental in the success of our international programs. We are deeply grateful for her leadership and her friendship.
"While USEA will miss Vicky at the helm, we are all thrilled that Sheila is leaving her post as the Board's treasurer to take over as Chairman. Sheila is kind, meticulous, determined, and she exhibits sound judgment, all of which are essential qualities as USEA continues to grow.
"We couldn't be more pleased that Bob Gee has joined the Board as Treasurer. His breadth and depth of knowledge, his strong friendships and associations will boost the visibility of our Board and USEA.
"The energy sector is experiencing unprecedented growth and rapid technological advancements. With many years of invaluable experience in energy law and policy, both are well positioned to support USEA in this time of remarkable growth."
###