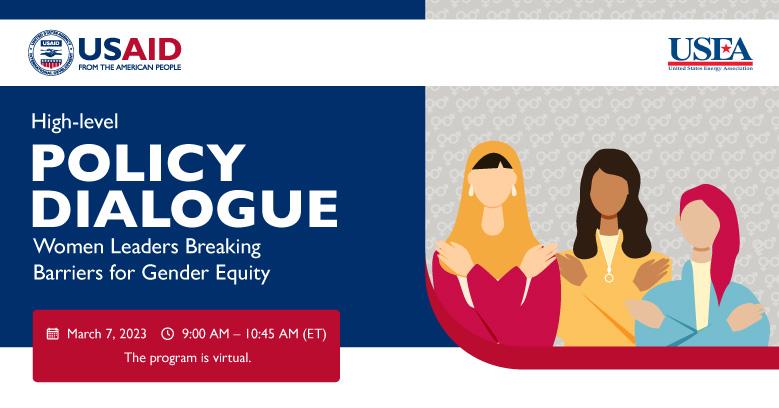 High-Level Policy Dialogue: Women Leaders Breaking Barriers for Gender Equity
On March 7, on the eve of International Women's Day 2023, the United States Energy Association (USEA) in collaboration with the United States Agency for International Development (USAID) will host a virtual High-Level Policy Dialogue: Women Leaders Breaking Barriers for Gender Equity. Join us virtually to celebrate diverse female voices who influence and shape energy policy. The program will embrace equity and spotlight the tremendous contribution of women working with national governments, the private sector, and civil society, prioritizing affirmative action on keeping gender central to green growth
and climate action.
The dialogue will open with an inspiring keynote address to set the stage spotlighting the significance of policies in promoting gender equity and social inclusion. This will be followed by a presentation by USAID on gender as a cross-cutting priority in the agency's work, creating the perfect segway for a moderated panel discussion. Distinguished global panelists will advance the conversation during our session on Women Leaders Taking Affirmative Action on Gender Equity with a specific focus on the energy sector. The interactive dialogue will focus on established processes, change management, planned initiatives on gender equity, and women's economic empowerment at the organizational and individual levels. The program will close with a presentation on the value of professional networks to promote and support women.

Relevant excerpts from the panel discussion and the responses to the survey included in the registration will be part of a Gender Equity Best Practices Literacy Factsheet to be shared with all attendees of the dialogue after the event. Note that all responses will remain anonymous and will not be attributed.