In Loving memory of Barry Worthington


July 24, 1954 - august 14, 2020
Barry K. Worthington was born and raised in Dushore, Pennsylvania. After graduating from Sullivan County High School, he attended his beloved Penn State University, and graduated with a degree in Man & Environmental Relations. He then obtained a Masters in Studies of the Future from the University of Houston.
After stints at Houston Lighting and Power and the Thomas Alva Edison Foundation, Barry became Executive Director of USEA in 1988. Over his 31-year tenure, he expanded USEA from two staff members and revenues of $200,000, to 30 employees and revenues of $11 million. Under his watch, USEA has worked in 104 countries around the globe.

​​​​​​​After his passing, condolences poured in from the energy community around the world. In hundreds of emails, social media posts, and phone calls, all paid homage to Barry. Dozens of organizations, including the World Energy Council and the United Nations Economic Commission for Europe, sent official condolence letters. This global display of grief is a testimony to his reputation and legacy.
Barry is survived by his wife, Louise, son Barry and daughter Kerry.
We love and miss you, Barry.
This tribute video was created by Barry's son, Barry Worthington.
"Barry was my close friend and confidant for many, many years. We held each other in such high regard and respect. Our families were important to us, no politics could shake our core foundations, and our day jobs allowed us to have an impact on the world around us. We had the opportunity to travel the world together. No matter when I called, he was there for me.

"I remember one time clearly: I was preparing to go in for my hearing to be Assistant Secretary of Energy, and I was nervous and had a last minute question. I called Barry, who was in Budapest, and he took a few minutes to walk me through my concern. After that, I was ready for the hearing. That's who Barry was, and I will deeply cherish my friendship and many memories with him."

USEA Executive Chair Vicky Bailey
"The energy community is vast and intricate, and it can be dauntingly complex. Barry embraced that complexity. He was a diplomatic yet unapologetic pragmatist. Barry circumvented political polarity. He sought common ground among stakeholders, and he valued partnership. His contribution to the domestic and international energy sector is unparalleled, and his vision and success for USEA - improving lives around the world - is the cornerstone of that legacy.

"Barry was a remarkable man, and a gifted, wise, and dedicated leader. The following verse will forever remind me of Barry: 'But those who hope in the Lord will renew their strength. They will soar on wings like eagles; they will run and not grow weary, they will walk and not be faint. Isaiah 40:31'"

USEA Acting Executive Director Sheila Hollis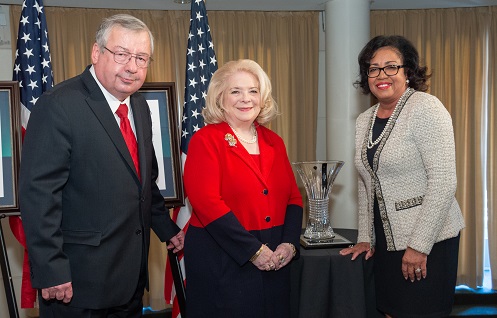 Barry with Sheila Hollis and Vicky Bailey at the 2019 Annual Membership Meeting.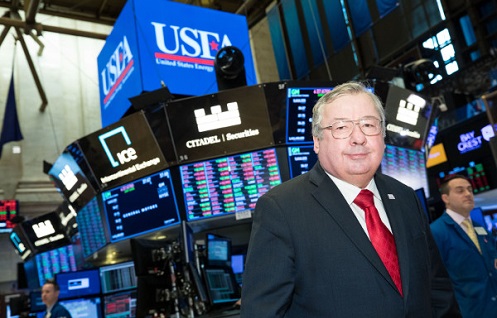 Barry at the New York Stock Exchange in January 2019, where he rung the opening bell.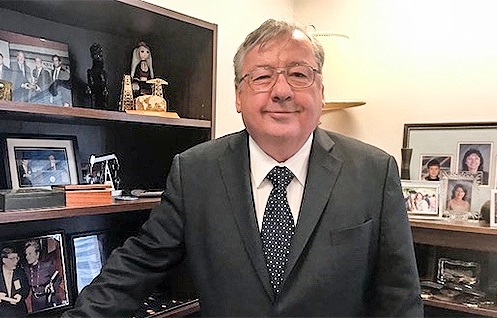 Barry in his office at USEA.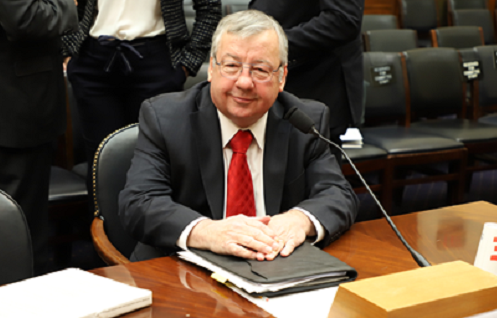 Barry testifying before the House Foreign Affairs Committee in April 2019.
---
Barry was featured in an episode of White House Chronicle in February 2020.
---
Condolences
After Barry's passing, condolences poured in from the energy community around the world.
"Those of us who were lucky enough to know and work with Barry are better people because of his vision, dedication to USEA's mission, quick wit and deep compassion. We must carry on his great work and celebrate his legacy. Heartbreaking for so many."

Karen Harbert,
President & CEO, AGA
​​​​​​​USEA Board Member



"Saddened to hear news of USEA Executive Director Barry Worthington's passing. A dedicated leader, Barry was a tireless advocate for American energy & bringing infrastructure where it was needed most around the world. My heart goes out to his family, friends & USEA staff."

Mike Sommers,
President & CEO, API
USEA Board Member



"Very sad to learn of the passing of a leader in the energy community, USEA's Executive Director, Barry Worthington. I'm grateful for the time we had together last Fall when he spoke at the EnVision Forum. My condolences are with his loved onces during this difficult time."

Neil Chatterjee
Former FERC Chairman



"Saddened to hear of the passing of USEA Executive Director Barry Worthington, a tireless champion for American energy security and friend to the Department of Energy. My thoughts and prayers are with his family and the USEA team during this difficult time."

Dan Brouillette
Former Secretary of Energy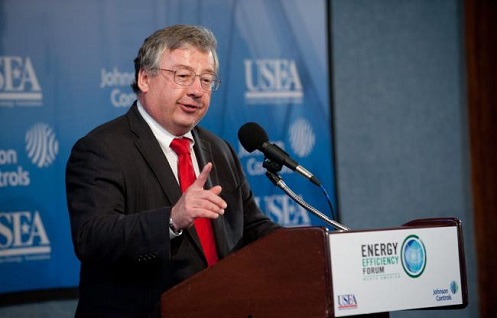 Barry speaking at USEA's Energy Efficiency Forum in 2017.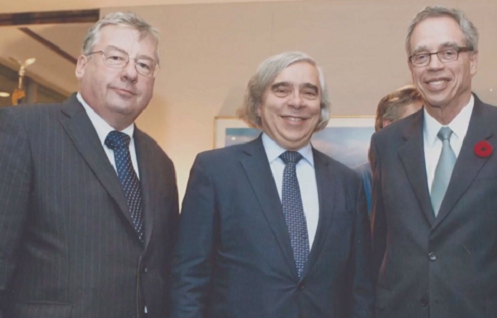 Barry with former Secretary of Energy Ernest Moniz.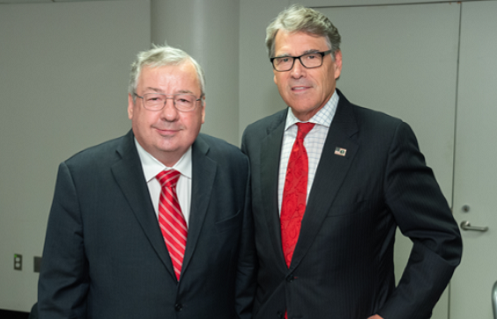 Barry with former Secretary of Energy Rick Perry.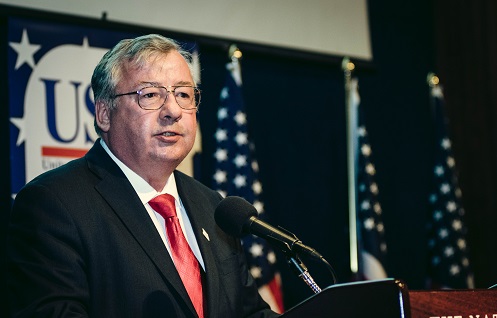 Barry speaking at the National Press Club in 2017.
---
Organization Statements & Letters
"We are all shocked and saddened by the news of Barry's passing. I worked with Barry for many years, and he was a great friend, personally and to our entire industry. Barry was a globally respected and admired expert on energy issues. A tireless worker, he traveled the world in a nonstop search for consensus and innovation.

"It is not an exaggeration to say that Barry was the heart and soul of the USEA, and his loss will be deeply felt throughout the association and energy communities he called home.

"Our thoughts and prayers go out to his wife, Louise, and to their children who were the center of his universe."

Tom Kuhn
President, Edison Electric Institute
"Barry Worthington personified the U.S. Energy Association's mission, working tirelessly to expand the use of clean energy technologies for the benefit of customers around the world.

"His work left an indelible mark on the energy industry and helped spark technology advancement in an era of global transformation. It is with heavy hearts that we join Barry's family, friends, and countless others across the industry in mourning his passing."

Arshad Mansoor
​​​​​​​President & CEO, Electric Power Research Institute
"We were deeply saddened to learn of the untimely passing of a well-liked and respected voice in the energy world. Barry Worthington was a true leader: his interest and natural curiosity was genuine; he was a mentor; and he encouraged meaningful dialogues in the United States and abroad. NARUC and USEA partnered on many important international activities.

"The loss hits close to home for us at NARUC, as Barry's daughter, Kerry, is a valued member of our team and we are keeping her and the entire Worthington family in our thoughts and prayers. To our friends at USEA, we understand that the loss is significant, both professionally and personally.

"We hope that Barry's family, friends and colleagues take comfort in knowing that he has left an indelible mark on modern concepts of energy knowledge, policy and practice."

Brandon Presley, NARUC President
​​​​​​​Greg White, NARUC Executive Director
"We are saddened to learn of the passing of Barry Worthington, the executive director of the United States Energy Association (USEA). Barry's leadership and commitment to the energy sector – and to the nuclear industry – will be greatly missed. We at NEI have been fortunate to work with Barry and USEA, and had the pleasure of witnessing firsthand his unyielding commitment and dedication to energy access and innovation.

"Barry has always been a champion of equal access to reliable, clean and affordable energy for not just the U.S. but the world. While we mourn, we are comforted to know that his important work will continue through the USEA's leadership, staff and members. We extend our deepest condolences to his wife and family."

Maria Korsnick
President & CEO, Nuclear Energy Institute
It is with great sadness that we note the passing of Barry Worthington, executive director of the United States Energy Association (USEA) for the past 31 years.

Worthington was a strong supporter of NERC, which serves on the USEA Board of Directors, and NERC's North American responsibility to assure the reliability and security of the bulk power system.

Worthington provided outstanding leadership to USEA throughout his years there, noted Jim Robb, NERC's president and CEO, with a primary focus on expanding access to and communicating the benefits of the U.S. energy industry.

"A kind and thoughtful man," Robb said. "NERC extends its sympathy to his family, friends and the USEA staff."

North American Electric Reliability Corporation (NERC)
"We are deeply saddened to hear of the passing of our friend and respected energy leader Barry Worthington. Barry's career speaks for itself, and his dedication to expanding energy access in the U.S. and around the globe has made a lasting positive impact for countless people.

"At a dynamic and often divisive time in energy policy, Barry was a bridge-builder and united stakeholders to share expertise and find solutions—ultimately making the energy industry, our economy and our nation stronger. But what we will remember most is the personal legacy he leaves, demonstrating that it is not just the work we do but how we do it that matters most.

"All of us at EPSA extend our sympathy to the USEA staff, Barry's friends and his family."

Todd Snitchler
President & CEO, Electric Power Supply Association
"Tetra Tech is deeply saddened to learn about the tragic death of USEA's Executive Director, Barry Worthington. Our hearts go out to Barry's family, the entire USEA team, and the many development professionals touched by this tragedy.

"Our team has been honored to work alongside Barry and we appreciate our collaboration with USEA during such a difficult time of loss. He was the best of collaborators, endlessly professional, and his dedication remain a source of inspiration, even at this most difficult of times.

"Barry's unwavering commitment to the energy industry and international development can be held as an example for future development professionals, and he will be remembered in our team's future endeavors."

Llyr Rowlands
President, Tetra Tech ES, Inc.
We at the Office of Community Services, State of Delaware, would like to take a moment to send our most sincere condolences at the loss of Mr. Barry Worthington. Our hearts are with you and his family at this terribly sad time.

In Mr. Worthington's 30 years with the USEA, he left and amazing footprint nationally and internationally. We, in Delaware Low-Income Home Energy Assistance Program Office, were often the lucky recipients of his willingness to share his vast knowledge and experience in the energy sector. Although his loss his huge, we are confident his vast contribution to our work will continue to advance services that bring energy access to the neediest among us.

In closing, we express our deepest sympathies to the USEA community and all family and friends of Mr. Worthington.

Delaware Office of Community Services
We wish to convey to you and your USEA colleagues our condolences on the sad news of Barry Worthington's death.

The World Energy Council US Member Committee began in 1923 to organise US involvement in the first World Power Conference held in London in 1924. Barry served as the USEA's Executive Director since 1988. There followed a long period of close and productive cooperation between the USEA and the Council until last year and we were truly sorry to see USEA depart from our global member community network.

Barry worked tirelessly as the Council's US Member Committee Secretary and was also a great contributor to the Cleaner Fossil Fuels Knowledge Network. He will be remembered as valued contributor to the World Energy Council. Over the many years of mutual association, those that knew him highlight his role as a champion of the US energy industry, who was very knowledgeable about international energy activities. His ideas were both pragmatic and visionary and he commanded great respect for his honesty and openness. We will remember Barry's intellect, his incisive humour and his eloquence – and most of all, his kindness and generosity will live on in the collective memory.

Our respectful thoughts and deepest sympathies are with colleagues, Barry's family and friends.

Yours sincerely,

Dr. Angela Wilkinson, Secretary General, World Energy Council
Jean Marie Dauger, Chair, World Energy Council
It is with deep regret that I share news of the passing of Barry Worthington, Executive Director of USEA. Barry passed away on Friday, August 14, at his home in Maryland.

Barry was always the gentleman, good-humored and astute. He was the very capable chair and leader of our Group of Experts on Cleaner Electricity Systems and vice-chair of our Committee on Sustainable Energy. As noted in the announcement from USEA, Barry was an extraordinary leader who always worked to bring all sides together in a search for common ground. He was a strong supporter of UNECE's agnostic, all-technologies approach to sustainable energy, taking the view that pragmatic, balanced approaches will deliver real results more effectively than more extreme positions.

On behalf of UNECE, but also speaking very personally, I can say that his leadership, vision, and style will be sorely missed – we have lost a friend and a champion. We offer our condolences to his family and to USEA.

Scott Foster
Director, Sustainabile Energy Division
​​​​​​​United Nations Economic Commission for Europe