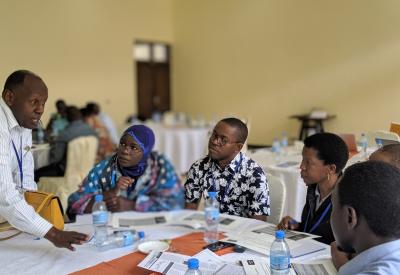 The EATP (including Ethiopia, Burundi, Kenya, Tanzania, Rwanda, and Uganda) was conducted in 2014 – 2018 to foster regional cooperation in transmission planning and analysis. The EATP developed the capacity of transmission planners in Kenya, Ethiopia and Tanzania to develop regional electric power transmission corridors that will (1) serve as the backbone infrastructure for trade and exchange of electricity, (2) enable investment in new electric power generation plants, (3) support integration of clean energy generation resources, and (4) improve system reliability.
The EATP created a Working Group that continued to further refine the national planning models to support regional harmonization and reviewed regional models. The Working Group members include the following organizations: the Eastern African Power Pool, EEP, Kenya Electricity Transmission Company, Ltd., KPLC, TANESCO, Régie de Production et Distribution d'Eau et d'Electricité, Rwanda Energy Group, Ltd., and Uganda Electricity Transmission Company, Ltd.
Under EUPP, the EATP developed regional network planning models, beginning with a load flow model for East Africa, progressing to dynamic models over time. The members of the EATP Working Group were trained to prepare each of the models, expanding the pool of qualified network planners in East Africa to continuously fine tune the regional planning model.
Topics covered under this partnership included:
EATP Regional Network Load Flow Models;
EATP Load Flow and Dynamic Training;
EATP Load Flow and Dynamic Training;
Study to Calculate Losses for the EKT Wheeling Transaction; and
NELSAP/TRACTABEL Study Review.
National Power Balance Settling
The development of a consensus for settling national power balances (import/export) within the regional model for each country. The national power balances will form the basis of the network analysis to be completed using the 2020 load flow model.
Development of a Regional Project Tracker
The initiation of a Project Tracker to determine the probability of commissioning generation and transmission projects within the planning horizon being analyzed (2020).
Adoption of Terms of Reference
EATP countries adopted a Terms of Reference to conduct a sensitivity analysis of regionally significant candidate transmission investment projects using agreed upon parameters.
Self-Assessment Dynamic Modeling and Analysis Tool Developed
The creation of an EATP Self-assessment Dynamic Modeling and Analysis Tool to enable transmission utilities to identify network planning institutional and human resource and capacity deficits and benchmark their capacity against one another.
Creation of Standard Operating Procedures Manual
The creation of a step-by-step Standard Operating Procedures Manual that outlines the planning criteria, defines strict requirements and gives directions and recommendations for construction, usage and update of the EATP regional model in load flow software.