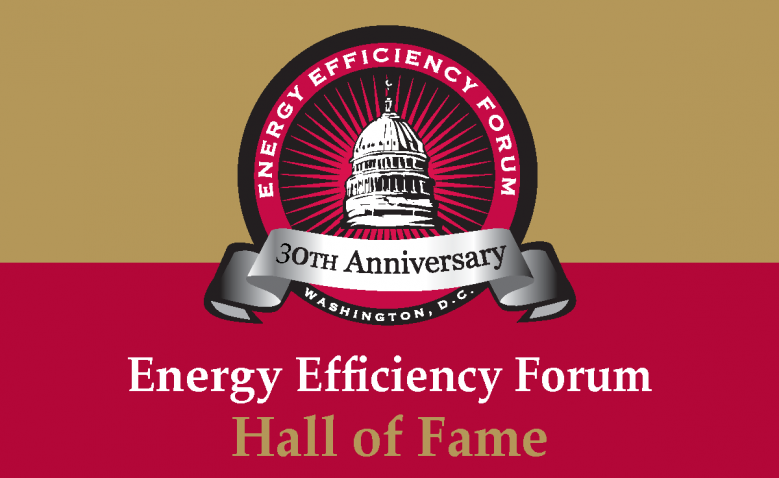 USEA Inducts Eight New Members Into Energy Efficiency Forum Hall of Fame
Washington, D.C. – On Wednesday, at the 30th Annual Energy Efficiency Forum co-hosted by USEA, The Alliance To Save Energy, and Johnson Controls, eight individuals were inducted into the Energy Efficiency Forum Hall of Fame.
USEA Acting Executive Director Sheila Hollis issued the following statement congratulating the new inductees:
"We are honored to recognize the accomplishments of the eight new members by inducting them into the Energy Efficiency Forum Hall of Fame at the 30th edition of this special event. We pay tribute to lifetime leaders in energy efficiency who span the public, private, and non-profit sectors. This honor is only given every five years, underscoring its prestigious role in celebrating outstanding leadership in this field. These eight new members join 30 other outstanding individuals who have been previously inducted.
"This year, it is especially meaningful to posthumously honor the founder of the Energy Efficiency Forum, former USEA Executive Director Barry K. Worthington, who tirelessly dedicated his life over three decades to improve energy access and energy efficiency globally. We are privileged to honor his memory as well as the significant contributions of the other honorees in this virtual ceremony." 
The eight new inductees into the Hall of Fame are:

Barry Worthington, Executive Director, USEA 1988-2020 (posthumously)
Governor Larry Hogan, Maryland; former Chair, National Governors Association
Senator Lisa Murkowski, Alaska; Chair, Senate Energy & Natural Resources Committee
Senator Susan Collins, Maine; Chair, Senate Special on Aging Committee
Rep. Paul Tonko, New York; Chair, House Energy Subcommittee on Environment and Climate Change
Rep. Debbie Dingell, Michigan; House Energy & Commerce and Natural Resources Committees
David Nemtzow, Director, Building Technologies Office, EERE, Dept. of Energy
Mark Wagner, VP, Government Relations, Johnson Controls (ret.)
The Energy Efficiency Forum Hall of Fame is an initiative to pay tribute to outstanding leadership in energy efficiency by honoring professionals who have advanced the mission of the Energy Efficiency Forum: to be the premier forum that promotes an energy efficiency ethic through the presentation of national and worldwide views on energy efficiency and the resulting impact on the environment, national security, and economic growth.
###
Follow us on Twitter @USEnergyAssn for updates.
Visit us at www.usea.org