Primary tabs
Carbon Capture Utilization and Storage Roadshow, New Orleans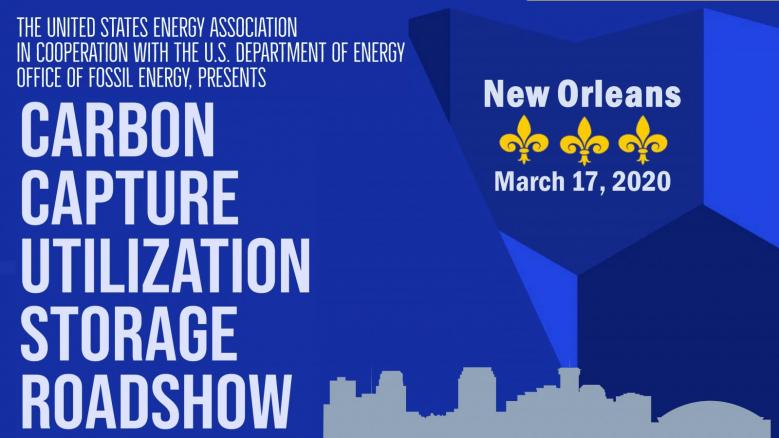 USEA & DOE Fossil Energy will host the second workshop of the CCUS Roadshow in New Orleans, Louisiana. Speakers will cover:
1) Commercial Deployment - All Sectors, From Industrial CCUS to CCUS
Commercial deployment of Carbon Capture technology is a multi-step process from research to refitting commercial applications. This session will map the process and highlight successful commercial CCUS projects.
2) Incentives, Drivers, Markets, and Funding
From basic research to commercial application, CCUS technology deployment benefits from economic incentives and market drivers. This session will discuss the market for CCUS projects and how fiscal and economic incentives and trends in Corporate Social Responsibility (CSR) and Environmental Social Governance (ESG) can drive project development.
3) Technology Today and Over the Horizon
Advances in CO2 capture and carbon management technologies are projected to drive down the cost of CCUS projects. This session will examine government and other research and development (R&D) that has advanced CCUS. Experts will discuss research opportunities, introduce new products and applications for capturing CO2.
4) Utilization - Commercialization of Captured CO2
The growing market for carbon in a major driver for CCUS projects. This session will identify emerging opportunities for carbon.
5) Infrastructure - Federal and State programs
The maturing carbon market is driving demand for CO2 pipelines and related (compression/oil/processing/gas/NGL/water) infrastructure. This session will examine factors that must be addressed to support CO2 infrastructure development, including tribal land engagement and interstate laws and regulations.
6) Geologic Storage
Research in geologic CO2 storage continues to unearth new technologies required to securely contain CO2 . Session 6 will review current geologic storage projects, monitoring and verification, and best use practices that will support storage standards and regulations.
7) Policy and Regulation
This session will review federal and state policies that are driving CCUS projects and technology deployment.
Our goal is to bring you the latest developments and activities and engage the broad, growing stakeholder community looking to CCUS for large scale CO2 management
Please note registration is limited.