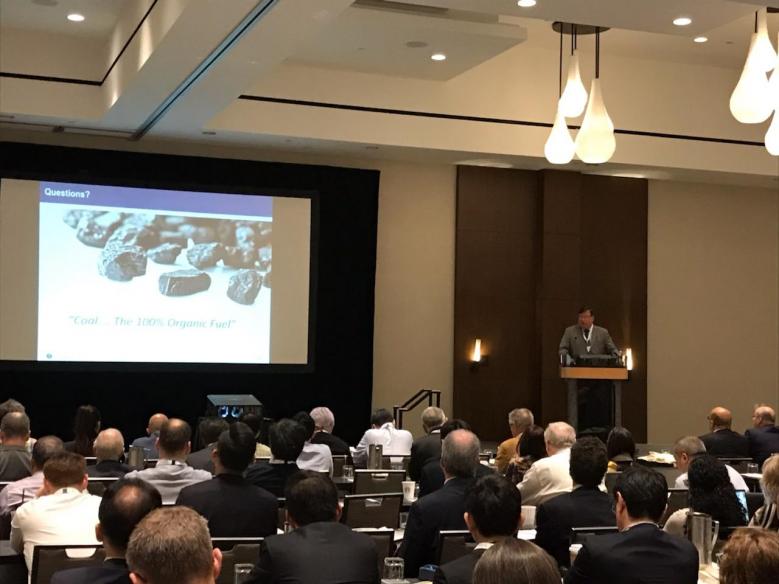 US DOE Clean Coal Chief Says Fossil Energy Needs CCS
USEA agrees, calls for Policy Parity at IEA Clean Coal Technology Conference in Houston                                                                                
Houston—Fossil energy is an abundant, dominant part of the global energy supply and the daily lives of all Americans, but clean energy technology to capture carbon emissions must also be part of the equation, U.S. Energy Department Deputy Assistant Secretary for Clean Coal and Carbon Management, Lou Hrkman, told global clean coal executives in Houston on Tuesday.
"We need to accelerate bringing our best ideas to commercial availability as quickly as possible," Hrkman said. "That is exactly what we are doing at DOE."
Against the backdrop of international pressure to reduce carbon emissions from industrial processes to power plants, Hrkman told the 9 International Conference on Clean Coal Technologies that DOE has focused R&D on advanced energy systems, crosscutting research and carbon capture utilization and storage.
"As the acknowledged world leader in CCUS technology development, we continue advance R&D in this area with an annual budget of around $200 million, signaling strong and steady support from the Trump administration and the Congress," Hrkman said as he teed up the conference in Houston.
"Over the past 19 years, US taxpayers have invested nearly $4 billion in CCUS. The payoff for those investments, carbon free fossil energy, is just over the horizon.  Soon it will be a technology option for regulators and companies to consider in their energy plans. We encourage other countries around the world to follow this example." 
The conference is organized by the International Energy Agency's Clean Coal Centre and hosted by the U.S. Energy Association and the U.S. Energy Department, a key member of the IEA Clean Coal Centre. Peabody Energy and ITC Wyoming Integrated Test Center are sponsors.  
The IEA says by 2040 the world will rely on fossil fuels for 77% of all energy use, from electricity production to industrial processes. While power plant emissions have declined in the U.S., they continue to rise worldwide.
IEA says in the last 10 years, emissions in the U.S. declined nearly 800 million global energy-related emissions of CO2 rose by 1.4 percent in 2017 mainly because of increased fossil energy-based electricity production in Asia.
Technology can help. The Energy Department's National Energy Technology Laboratory says power plants built today emit 90 percent less pollutants--SO2, NOx, particulates and mercury--than the plants they replace from the 1970s.
And regulated emissions from coal-based electricity generation have decreased overall by nearly 40 percent since the 1970s, while coal use has tripled, according to U.S. statistics.
In remarks following Hrkman's, USEA Executive Director Barry Worthington said, "The global industry is going to continue to use fossil fuels. Regardless of what we do in North America, other countries of the world are going to continue to use coal and other fossil fuels. I feel we have an obligation to help them adopt the best technologies, like CCS and high efficiency low emission technology.
"We need to get on with deploying CCS as quickly as we can and find ways to overcome challenges. One challenge is retrofitting existing coal plants. If the plants don't have access to depleted oil fields for enhanced oil recovery (EOR), they're going to need to sequester emissions.
"Another challenge is we don't have economic incentives lined up in a way that will boost the economics of using this technology. We have the 45Q tax credit, which will give companies a $35 tax credit 2024 per ton of CO2 captured for EOR, and $50 per ton of CO2 captured for straight sequestration in a geologic formation. But we need additional incentives to bridge the gap between the actual cost and the economic value those tax credits can provide.
"While the cost of CCS is still relatively high, the government can help drive down that cost treating CCS technology the same way it treats renewable technologies. For every dollar the federal government spends on CCS, it spends $100 on renewable incentives. Thus, there has been a dramatic reduction in wind and solar technology. CCS should receive the same policy treatment that renewables receive."
Hrkman told the conference that lowering the cost of CCUS technologies, which will expand its deployment, is among his "highest priorities."
Hrkman said, "Today, it costs about $50 to capture a metric ton of CO2 from the flue gas of a typical coal-fired power plant. This level of cost limits wide adoption of the technology without various support mechanisms.
"Our goal is to reduce CO2 capture costs to $30/ton by 2030. This requires reductions in capital cost of the equipment and materials, reductions in the amount of energy required in the process, and development of new technologies that can be easily integrated within either current power plants or industrial systems."
###
If you would like to speak to Barry Worthington, please contact, Dipka Bhambhani at 202-321-3337 or [email protected]