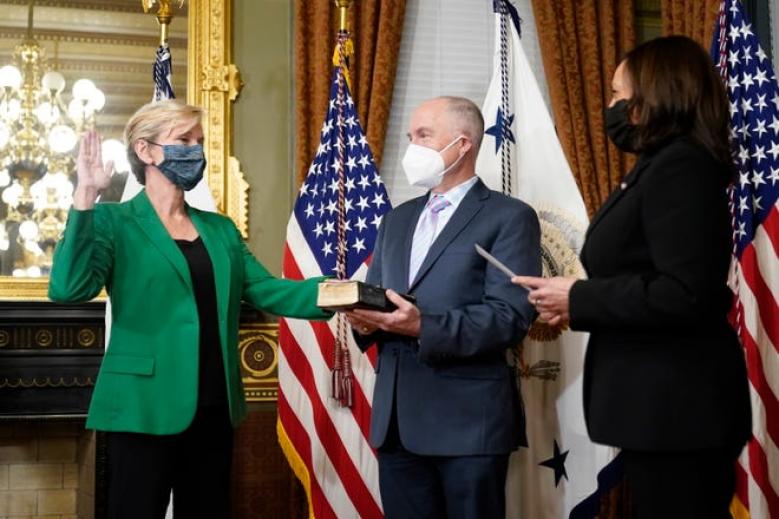 USEA Acting Executive Director Sheila Hollis Congratulates Secretary of Energy Jennifer Granholm
Washington, D.C. – Last week, following her confirmation by the U.S. Senate, Jennifer Granholm was sworn in as the 16th Secretary of Energy by Vice President Kamala Harris. Granholm, who was the first woman elected Governor in Michigan, is the second woman to serve as Secretary of Energy.
In a statement, USEA Acting Executive Director Sheila Hollis said:
"USEA congratulates Jennifer Granholm on her U.S. Senate confirmation as the next Secretary of the Department of Energy (DOE).
"As a former Governor of Michigan, Secretary Granholm brings an excellent understanding of the importance of clean energy jobs, technological innovation, and energy infrastructure resilience. Her leadership in Michigan facilitating the transition to a new energy and transportation economy - which recognizes the role of various sources and applications of energy - will contribute to the ongoing national transformation in those sectors.
"USEA values its nearly 100 years of collaboration with the U.S. government, including its close working relationship with DOE. Our mission calls us to convene industry and government stakeholders to increase understanding of new technologies and energy advances in the U.S., and to help expand reliable, affordable, and environmentally sustainable energy access in developing countries. We look forward to continuing these vital roles while partnering with DOE and other federal agencies under the Biden-Harris Administration.
"2021 has already been a busy year at USEA as we continue to serve as a resource and voice for the American energy industry. Energy is the foundation for economic growth, and Secretary Granholm's commitment to effectively use all energy resources and carbon management technologies to achieve U.S. goals will be a fundamental foundation for our future endeavors. Our work with DOE's Office of Fossil Energy, Office of Electricity, Office of Cybersecurity, Energy Security and Emergency Response, and the Office of Renewable Energy and Energy Efficiency has helped to enable the advancement of energy and achieve mutual progress.
"USEA's Board of Directors represent the entire energy spectrum, and we support new opportunities to enhance U.S. energy security by effectively utilizing all of our domestic assets. We look forward to expanding the use of clean energy technology, building new alliances across DOE, and welcoming Secretary Granholm's leadership in our future DOE-USEA joint activities."
###
Photo: Andrew Harnik, Associated Press