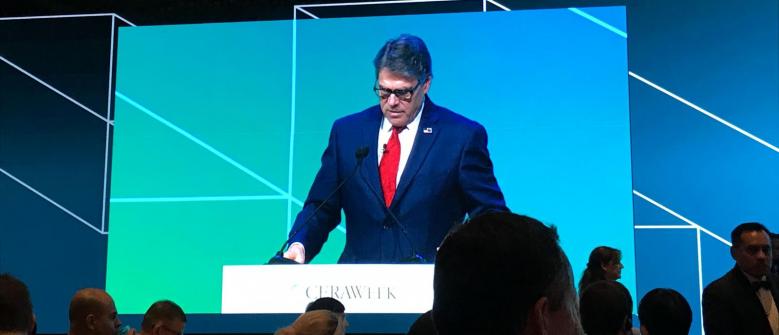 USEA Chief Lauds DOE Secretary Message at CERAWeek in Houston
Innovation Boosts Energy Abundance, Security, Creates Energy Choice Abroad
Houston—On Wednesday, Energy Secretary Rick Perry told global energy executives at CERAWeek in Houston he's proud of American energy innovation, which he calls the "great engine of progress."
In his remarks, Secretary Perry said technology developments at the Energy Department's 17 national labs, offer opportunities in the U.S. and benefits of diverse energy choices across the globe.
Further, Secretary Perry encouraged executives to "embrace and not reject" technology that will increase supply and improve delivery of all energy resources.
Over the past two years, innovation has expanded U.S. solar energy and wind energy by nearly 90 percent, and wind energy will exceed hydropower generation for the first time this year, Secretary Perry said.
Between now and 2025, the U.S. will contribute an estimated one half of all the world's growth in oil and gas. Already the U.S. exports liquefied natural gas to 34 countries in 5 continents, and U.S. coal exports had the second-best year ever, Secretary Perry said.
When the U.S. shares its energy with the world, it creates freedom of choice for energy consumers everywhere, including places where it never existed, he said.
In a statement following Secretary Perry's remarks, USEA Executive Director Barry Worthington said:
"We applaud Secretary Perry for recognizing the significant impact technology has had on American energy abundance and American energy exports, both of which have strengthened our national security and the security of our allies.
"USEA has worked for more than 25 years with the U.S. Agency for International Development to improve global energy access and reduce energy poverty.
"Technology is a critical piece of international energy development, from software to improve electricity grids to carbon capture and sequestration, and High Efficiency Low Emissions (HELE) technology to expand the use of coal generation to increase electricity access in developing countries.
"Meanwhile, technology to improve and make more efficient natural gas production and delivery drives the U.S LNG industry which can supply markets in Eastern Europe and Southeast Asia where we work.
"Successful growth of the energy sector in this new Fourth Industrial Revolution, which has been widely discussed at CERAWeek, will require adoption of technology at a faster rate to improve efficiency and energy delivery.
"Embracing innovation, as Secretary Perry noted, is one piece of the equation. Operations across the energy supply chain, including culture and behavior, must adapt to the new digital age.
"At USEA we support the idea that energy efficiency in production, transportation and utilization are essential; innovation certainly drives efficiency.
"CERAWeek this year has unearthed this reality in a bold way, and we look forward to hearing more throughout the week."