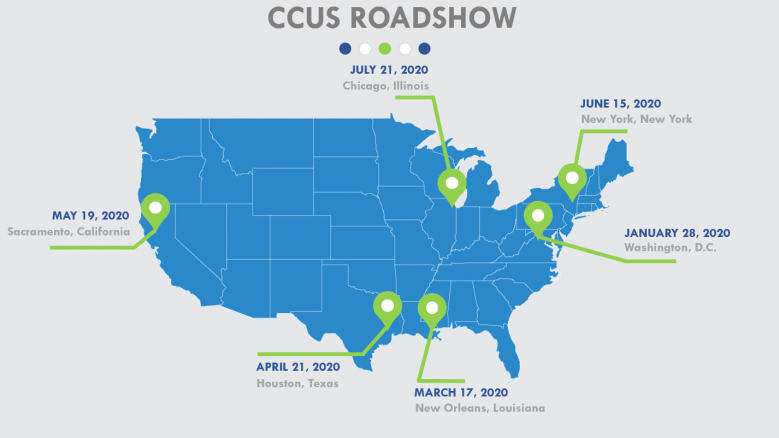 USEA, DOE Kick Off National Carbon Capture Roadshow
DOE Fossil Office Says CCUS is on precipice of major expansion, investment
Washington, D.C. – The Energy Department's Office of Fossil Energy and U.S. Energy Association will kick off a national carbon capture roadshow across six U.S. cities on Tuesday January 28, starting in Washington.
Energy stakeholders will assemble to discuss: commercial CCUS deployment; using carbon for industrial processes; tax incentives, policy, regulation, federal and state programs; capturing carbon in geologic storage; and, financing projects. Groups will discuss new areas where captured carbon can be used, such as waste plastics destruction, carbon neutral petrochemical feedstocks, transportation fuels and electricity generation.
The Department of Energy's Office of Fossil Energy and the National Energy Technology Laboratory have been at the forefront of CCUS development for three decades. Working with industry partners and research institutions the DOE is funding projects to address the technical challenges to CCUS commercialization.
"No matter where you are on the spectrum of the climate issue, the fact is, fossil-fueled power plants will have to operate with lower CO2 emissions," said Steven Winberg Assistant Secretary for the Office of Fossil Energy. "The only viable path to getting there is to commercialize and deploy CCUS technologies around the world."
The Roadshow will stop in New Orleans on March 17, Houston on April 21, Sacramento on May 19, New York on June 15, and Chicago on July 21.
In a statement, USEA Executive Director Barry Worthington said: "Any technology that reduces CO2 concentration in the atmosphere and allows us to continue to deliver safe, affordable energy to Americans has our support.
"Carbon-capture technology has been around for decades, but we now have a large swath of uses for captured carbon, and we have tax incentives like 45Q and Congressman Tom Reed's Energy Sector Innovation Credit which will make CCS and CCUS more pervasive across our industry.
"In order to manage increasing global energy demand, U.S. energy abundance, and the transition to a clean energy economy, carbon-capture, either for storage or industrial processes is critical.
"Our industry is expected to double our energy services globally by midcentury while decarbonizing the energy sector. This is a challenge, but bringing stakeholders together to hammer out solutions and discuss the path forward on CCS and CCUS will help our industry meet that challenge.
"Investment in the technology is growing, the public will for emissions reducing technology is growing, and political harmony on CCS is growing."
###
To speak with Barry Worthington, contact Dipka Bhambhani at [email protected] or 202-321-3337.