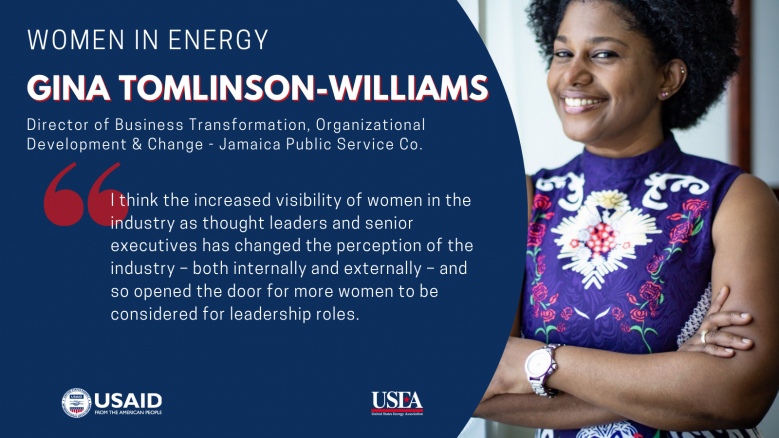 Women in Energy: Gina Tomlinson-Williams
The Women in Energy series is a joint project between USEA and USAID to help improve the visibility of women's participation and leadership in the traditionally male-dominated energy sector and their active participation in policies and gender outcomes at their respective organizations and the sector overall.
Every month we feature a woman who has shown exemplary leadership. The women highlighted come from diverse backgrounds and roles, and they bring with them a unique perspective on gender equality within the energy sector. We believe that increasing women's leadership and participation in decision-making for climate policies needs active communications campaigns and championing that catalyze behavioral change and urgent action.  
1. How did you arrive at your choice of career path? Did your education, lead you to where you are now?
My formal training is in Electronics and Physics (BSc), Computer Based Information Systems (MSc), and I am a certified Organizational Development Professional. I actually never knew about Business Transformation or Organizational Development until I started working at Jamaica Public Service (JPS). I joined the company as a traditional Business Process Analyst coming from a background in manufacturing and IT. JPS is an integrated utility, so my exposure was swift, deep and wide across the entire Electric Utility value chain from generation to consumer purchase. I expected to transition into a more technical area of the business, however my current career came from several years of exposure in roles where I led business process improvement, systems improvements and implementations, training and people building. This happened through formal training as well as being placed in positions that required me to define roles that were new to the organization and learn on the job. I am not the traditional woman in energy as I'm not an engineer or technical expert; my role is to create a modern, inspiring, engaging, learning environment where such women can be valued and grow personally and professionally.
2. What obstacles have you experienced as a woman pursuing an education and career in the energy industry? What obstacles do women vying for leadership spots face in this sector?
I have attended and presented at several energy and related conferences on technical and non-technical topics in North America and the Caribbean, and I always face the first mental hurdle of "Oh, you're female" and for me personally, the second is "Oh, you're so young!" – sometimes even said out loud. These blocks are usually demonstrated in inclusiveness (or lack thereof) in conversations, until after I present or speak up in a session. So one obstacle I would say is the need to prove myself, unlike my male counterparts.
I am one of only four women senior executives in my organization in a group of close to 50 leaders, two of whom report directly to the CEO in non-technical roles. In Jamaica we do rank highly (globally) for women in leadership and women CEOs of energy companies, including JPS a few years ago, so there have been real and recent demonstrations of women in senior leadership in the industry. Realistically, the traditionally technical roles in the business do not currently have women successors and while the number of women engineers and linemen has been increasing over the years, the obstacles include breaking into the boys' clubs, deliberate coaching and mentorship of women leaders and high/potentials still remain.
3. Technology is transforming traditional energy businesses with systemic changes into a more modern interactive mechanism. Some multinationals view this transformation as an opportunity to focus on innovation and diversity and expanding sustainability, which research has shown to drive better business performance. How is your organization attracting, retaining, and promoting more women into senior management positions to respond to this industry transformation? Is company data on this publicly available?
While we do not have deliberate recruiting initiatives focused on diversity, we are deliberate about showcasing our women locally and internationally. This is done through consciously selecting women to attend and/or present at conferences as well as publicizing their work internally and externally (social media and traditional media). We traditionally promote merit and performance, so our main effort at this time is to have more women in the pool of available candidates, as well as remove the roadblocks previously mentioned.
Women make up 45% of our employee base
10% of the "technical" roles are held by women
22% of our leaders are women
10% of our senior leaders are women
4. What changes in the sector at large do you think have launched more women into leadership positions?
I think the increased visibility of women in the industry as thought leaders and senior executives has changed the perception of the industry – both internally and externally – and so opened the door for more women to be considered for leadership roles.
5. What are some of the untapped actions the energy and electricity sector could focus on to accelerate change, increase diversity, and foster a better gender balance in the boardroom?
For us in the Caribbean, there needs to be more outreach to women and girls from as early as eight years old to start reshaping their perception of themselves and the role they can play in society. This will allow them to start from a place of engineer, leader, and technical expert and not just lawyer, doctor, or call center agent. This outreach can be in several forms:
- mentorship by women in the industry
- participation in career days/fairs
- workshops and conferences for women in energy
- sponsorship of women and girls' personal development conferences
6. Do you have examples of how you are helping meet women's energy needs in your country or how you are helping enable women in energy in your country? Please share.
Jamaica has a high number of single-mother households, and many of these are in low-income brackets and unfortunately fall into segments of our community where there is high electricity theft. We have established several partnerships with both Government and non-Government organizations to conduct social interventions in these communities, which include job creation and personal development to help to bring these households closer to self-sufficiency and improve self-perception.
As it relates to women in energy, we do not currently have a deliberate approach to engage or enable women in energy, outside of those answered in question 3.