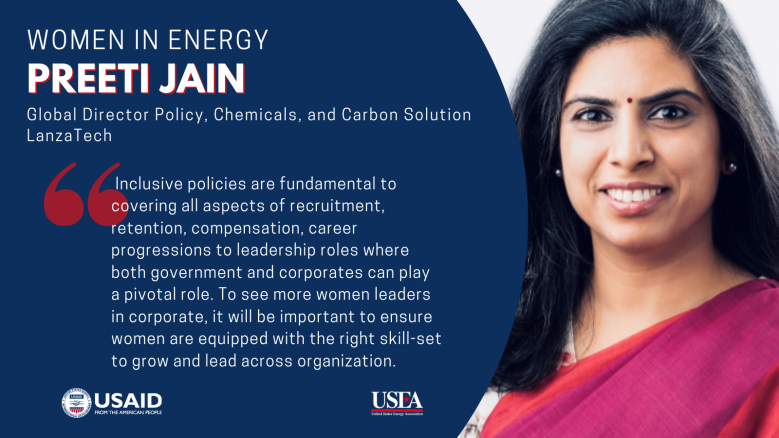 Women in Energy: Preeti Jain
The Women in Energy series is a joint project between USEA and USAID to help improve the visibility of women's participation and leadership in the traditionally male-dominated energy sector and their active participation in policies and gender outcomes in organizations.
Every month we feature a woman who has shown exemplary leadership. The women highlighted come from diverse backgrounds and roles, and they bring with them a unique perspective on gender equality within the energy sector. We believe that increasing women's leadership and participation in decision-making for climate policies needs active communications campaigns and championing that catalyze behavioral change and urgent action.
1. Do you feel that your education and career path led you to where you are today? Were there mentors and cheerleaders along the way?
Unquestionably my educational background played a vital role in shaping my career path. A scientist by training (PhD, Chemistry), I started my career as a researcher with the Research & Development Centre of IndianOil, a leading integrated energy company. My first assignment landed me in the Emission Testing Research lab where besides being the first woman employee amidst a male-dominated automobile engineering team, I was instrumental in establishing that clean and alternative fuels deliver environmental and health benefits through the chemical characterization of exhaust emissions during vehicle performance testing. This research outcome served as a basis to shape national biofuel policies, and also my first experience in understanding the interplay between science and policies.
My analytical chemistry background further provided opportunities to be associated with India's Clean Air Program and Auto Fuel Policy Committee which served as stepping stones towards my selection as Fulbright IAELP (Indo-American Environment Leadership Program) fellowship.  The Fulbright period I spent at Desert Research Institute with Dr. Judy Chow and Dr. John Watson fortified my ability to support the Ambient Air Monitoring program in Indian cities besides amplifying my global network. The Fulbright experience essentially shaped my view of the world and career choices revolving around energy transition and climate change.
After spending a decade in R&D, the zeal to expand my learning curve led me to an unconventional choice to pursue an MBA from the Asian Institute of Management (Philippines). The MBA journey was not easy as at the time I was mother to a 5-year-old daughter. I was able to venture on this rigorous journey with the support of my family, especially my late parents. The enriching MBA journey equipped me with business and management skills that steered my career path to Consulting in Singapore. Most importantly it taught me to be always on the learning curve and leave a value in any conversation.
As Asia Lead for Refining (Chemistry continued in hindsight); now I was engaged with governments to shape fuel policies across Asia, technology roadmaps, and Economics around it. Looking back on the decision to venture into a new world of Consulting, relocation to a new country taught me the importance of adaptability and being open-minded which can prepare us for some of the wonderful experiences of life.  
Life always comes with uncertainties and amid a flourishing career in Singapore, I had to return to India for family. The 'work from home' offered to me by my then employer Hart Energy (again a women-led consulting) provided the much-needed oxygen to continue my professional journey and support my daughter. After 7 years in consulting and a brief stint with a Think Tank (honing the art of Advocacy); I moved to SABIC India, one of the leading Petrochemicals players headquartered in the Kingdom of Saudi Arabia. A launching pad for my growth, this assignment offered me a unique cultural experience, while expanding my knowledge to the commodity world of petrochemicals still connected with energy.
In my current role as Global Director (Policy, Chemicals & Carbon Smart) with LanzaTech, a global pioneer in innovation, we envision a sustainable and climate-resilient world where again innovation and science-based policies are at the helm of affairs. Reflecting, I can say not limiting myself to pure research or academics; but being open to understanding the dynamics of scientific research, businesses, and policies prepared me well for the leadership role.
My parents have been a great force behind my professional choices and unconventional decisions. Due to lack of financial means, they couldn't complete college but always inspired me and my siblings to follow our dreams. My husband stood by me in all these times, always reminding me that nothing of this is permanent and I should use my potential to the fullest. My fellow women colleagues at every step and organization even today at LanzaTech; inspire me to do more to bring women's voices and perspectives forward.
2. What in your view are some of the unique or complex challenges that women face when vying for a leadership position in the energy sector/sustainability? Are there any effective strategies to address these?
Women aspiring to reach leadership roles in general are faced with societal, organizational, and personal challenges. Our social architecture draws boundaries between men's and women's roles with women still carrying the major load of household responsibilities. The unconscious bias or limited advancement opportunities at the workplace coupled with imposter syndrome adds to the complexity of women's leadership progression. With just 22% of women in the energy sector, it is prudent to create an enabling work environment for women for an inclusive energy sector transition.
One key element in bringing more women into leadership roles is advocating for gender equality. However, it's equally valuable that we must build a pipeline of women leaders. More than just taking women to leadership positions, the focus should be on providing them with multifaceted experiences to be successful in their leadership roles. Women bring unique perspectives and experiences to the table, and we must not miss that opportunity on our path to a sustainable energy future.
3. How does your organization support women's empowerment and advance gender equality through its energy-related work?
LanzaTech is a game-changer technology leader in addressing climate change and we are on a continued mission to empower our women employees to achieve this global objective. As an organization, we are committed to fostering diversity, empowerment, gender equity, and inclusivity at the workplace. This commitment starts at the top with our CEO Dr. Jennifer Holmgren and leadership teams across engineering, science & technology, policy, and business development pursuits.
The organizational recruitment practices use gender-neutral language in job descriptions. As an employer LanzaTech, offer flexible work arrangements in hybrid mode to help its employees especially women balance work and personal commitments while advancing their career. This approach has been especially beneficial for empowering women who are often juggling multiple responsibilities. It enables their retention. To help advance their careers, we provide mentorship and ensure their talent and skillsets are utilized to the fullest for their own and organizational growth.
LanzaTech is also committed to ensuring that employees are paid fairly and equitably, regardless of gender. As we have grown, we have now added a new Director of Total Rewards who will ensure that we continue to pay equitably and fairly to both men and women. 
4. How is your organization attracting, retaining, and promoting more women into senior management positions to respond to the current industry transformation? Is company data on this publicly available?
LanzaTech is a woman CEO-led global leader in low-carbon fuels and chemicals working towards a post-pollution future. LanzaTech sets itself apart with our commitment to DEI starting at the top.
To give women wings, our promotion policies truly recognize talent without gender boundaries. LanzaTech provides leadership mentoring and training to help women in this sector develop the skills and confidence needed to advance their careers. I am happy to share that re-entry after a career break is encouraged and supported at LanzaTech; besides providing new learning and reskilling opportunities to returning women professionals.
The data distinctly shows the outcome of these inclusive practices at LanzaTech, as Women comprise 31% of our entire leadership team, 60% of our technical leadership team, 50% of our executive leadership, and 43% of our board of directors. Due to success in diverse recruiting practices, we now have over 33% female employees in our global workforce and aim to increase it further to have more women in technical and management roles.
5. Embracing what changes in the sector at large do you think will launch more women into leadership positions? What according to you are some of the biggest opportunities for women leaders in the sector today?
We all collectively need to create an ecosystem that allows women to balance their professional and family commitments. Inclusive policies are fundamental to covering all aspects of recruitment, retention, compensation, career progressions to leadership roles where both government and corporate can play a pivotal role. To see more women leaders in corporate, it will be important to ensure women are equipped with the right skill-set to grow and lead across organizations. We sometimes see women as leaders for diversity check box, to overcome that let's sponsor more women leaders to bring the change in the energy sector.
We are at an intersection where the energy sector is going through a transformation by embracing renewables and being more sustainable. This brings immense opportunities for women in leadership to ensure that gender equity is embedded in this transition across STEM, be it innovation & research or technology development, utilities, or shaping policies for better energy access to women and bringing a socio-economic change to empower women at the grassroots level.
6. What would be your one practical recommendation to mentor or support women starting a career in energy or climate action?
Reflecting I can say one thing with certainty "Always being open to learning new things, opened a diverse array of opportunities in front of me". A dear friend of mine always reminds me that 'relationships' are the currency of success be it energy or any sector, so always nurture them.
I do believe your work should give you happiness only then one can deliver the best, if that's not the case one must not shy away from recalibrating the work choices. Last, I would like to add is to remember failure isn't always a bad thing, it helps you learn and do better so you are always learning and on a journey.
7. How can women have increased access to finance for entrepreneurial ventures across the breadth of sustainability as a sector to expand energy access in your region?
Expanding energy access will require building a decentralized energy system with the aid of renewables and bioeconomy-based energy products, where women's participation can be instrumental. It is important that in this new energy nexus, women must be represented at all levels to make it truly inclusive and equitable.
It would not be wrong to say gender equality and financial inclusion go hand in hand to create more women entrepreneurs. You will agree that existing financing networks often exclude female entrepreneurs thus missing their economic potential. It is important that we integrate gender equality into the financing ecosystem to have more businesswomen at all levels. This increased women's engagement in the energy entrepreneurial sphere can be facilitated with better information access through government/ local networks, exposure to training, and resources for their ventures. These collective efforts can enable to harness the economic potential of women and contribute towards the UN sustainable development goals.