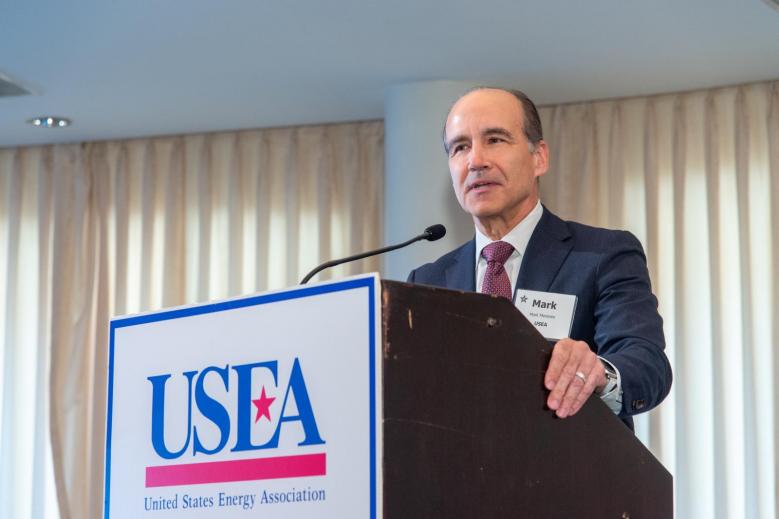 United States Energy Association Board of Directors Appoints Mark W. Menezes as President and CEO
The United States Energy Association Board of Directors appointed Mark W. Menezes as its new President and Chief Executive Officer effective June 15. He will succeed Sheila Hollis who has served as Acting Executive Director since the unexpected death of its long-time leader, Barry Worthington, in August 2020.
"The board is very pleased to announce the leadership role Mr. Menezes will play at USEA during this global energy transition," said Vicky Bailey, Executive Chair of the USEA board, who headed the search committee. "Mark has over 30 years of experience in the energy sector including his work in the private sector and his service with Congress and in the Executive Branch."
Mr. Menezes's selection follows a nationwide search conducted by Spencer Stuart, a leading global leadership advisory firm.
"I am privileged and very grateful to be given this opportunity to join the USEA team," said Mr. Menezes. "I realize the difficult challenge to replace Barry Worthington, but I look forward to working with the board and team USEA. I believe USEA is a unique and successful organization and is poised to play a dynamic leading role in the global energy transition."
"The board also recognizes and thanks our current leader, Sheila Hollis, for her service stepping up to take Barry's place and continuing the work of USEA as the search committee completed its efforts," continued Ms. Bailey. "The board, USEA members and our dedicated staff are indebted to Sheila for her selfless service during this search period."
Mr. Menezes has served in the public sector roles of Deputy Secretary of Energy and as Chief Counsel, Energy and Environment, for the US House Committee on Energy and Commerce. In the private sector, he has been a senior official with Berkshire Hathaway Energy, AEP, and was a law partner at Hunton Andrews Kurth.
The United States Energy Association (USEA) is a nonprofit, apolitical, non-lobbying organization founded in 1924. USEA's mission has two pillars of equal importance. USEA serves as a resource, by convening energy stakeholders to share policy, scientific, and technological information to foster the advancement of the entire energy sector. Internationally, USEA promotes energy development by expanding access to safe, affordable, sustainable, and environmentally acceptable energy in partnership with the U.S. Government.
###
Contact: Kim Grover (202) 312-1236