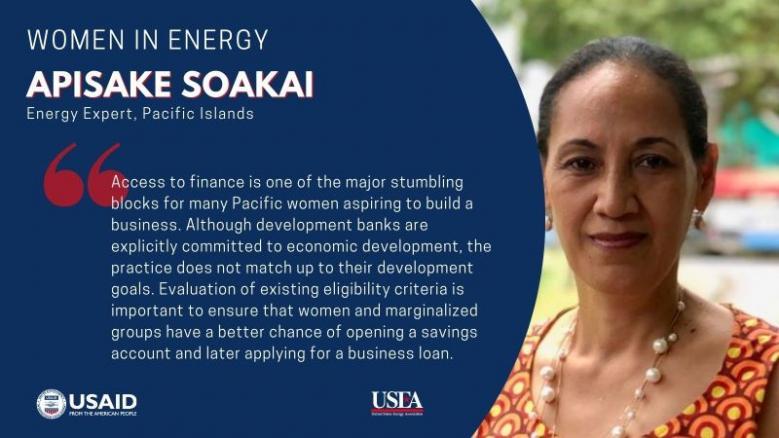 Women in Energy: Apisake Soakai
The Women in Energy series is a joint project between USEA and USAID that was developed out of USEA's program funded by USAID to improve gender policies and gender outcomes.
Every month we feature a trailblazer woman who has shown exemplary leadership. The women highlighted come from diverse backgrounds and roles, and they bring with them a unique perspective on gender equality, diversity, and inclusion, within the energy sector, climate action, industries, and beyond.
1. Do you feel that your education and career path led you to where you are today? Were there mentors and cheerleaders along the way?
Education opens doors to an array of opportunities, and I have benefitted immensely from the education I've had in capacity building and business administration. The first degree I achieved opened a job opportunity as a project officer and training coordinator in the energy sector reform project in Tonga. This role introduced me to energy issues of poor access, costly energy services, and limited energy technologies affecting women living in rural and remote communities. I was fortunate to work with women across the social and economic spectrum to improve access, awareness, and knowledge of renewable energy and energy efficiency benefits.
The advanced degree I attained allowed me to progress the hierarchy and assume leadership positions as head of a government agency – the first time for a woman in the region. The leadership capacity and experience further opened doors to work with development organizations to improve energy access, reduce energy costs and improve financing, build local capacity, and establish energy infrastructures for Pacific Island countries. I am now working in the development space at a regional level, providing support for energy reforms and development to improve the livelihoods of Pacific Islanders.  
My career path progressed through the hierarchy of leadership and peaking at the top following appointments to CEO positions, the first time for a woman.
Along the way, I was privileged to be mentored by both male and female colleagues working alongside me while others were providing support from abroad. A lot of my mentors were family members who were professionals, entrepreneurs, and full-time housewives. I am indebted to these individuals who invested their time and capacity to support me along the way by instilling in me a commitment to the greater good of family and community, the value of education, hard work, perseverance, and believing in yourself. These are the moral compass that keeps us balanced.
I think education and mentoring are complementary and young women starting, should be encouraged to gain access to both.     
2. What in your view are some of the unique or complex challenges that women face when vying for a leadership position in the energy sector? Are there any effective strategies to address these?
There are many challenges that women experience in the energy sector because it is a male domain. Although experiences may seem to fit into common themes, each experience is unique to one's context and circumstances. I would like to focus my response on my experience from which others may draw.
The sense of alienation is very strong when you're the only woman in the team, young and enthusiastic, leading from the front. In my early days as a young leader, my ideas and proposals were often ignored or required another layer of justification in addition to many consultations and negotiations after which I felt worn out, deflated, and self-doubt crept in. However, I was fortunate to have a broad network of mentors who were there when I needed them, and my persistence paid off.   
I think it is important for organizations to have a mentoring and training program in place to ensure ongoing support is available. It's important for moral support, mental health, and general well-being in the workplace.
3. How have you across your various roles both in the public and private sector helped attract, retain, and promote a more gender-diverse workforce and more equity in senior management positions? Did you notice any transformative changes?
Very early in my career, I noted the leadership challenges for women at work, and from then on I was committed to creating a conducive work environment where women can perform and achieve their potential. Some of the opportunities I provided when I was head of an organization (in the public service and utilities sector)  included a budget allocation for increased training and capacity building (in-house on-the-job training and academic study), improved infrastructure and workplace safety, hosted social activities to allow staff bonding, new uniforms, and regular meetings with women colleagues in and outside the workplace, etc.
I am proud to state that there was positive behavioral and job performance change. A few of the female staff graduated with Certificates, Diplomas, and first degrees in management and technical programs. Many women participated in in-house training and workshops. The work environment was happier, and women were open to discussing ideas and willing to take on extra responsibility.
Everyone woman has untapped potential and fulfilling her talent can be encouraged through an appropriate support framework and a conducive work environment.    
4. What changes in the sector at large do you think will launch more women into leadership positions? What according to you are some of the biggest opportunities for women leaders in the sector today?
There have been many positive policy and strategic changes in the energy sector to encourage more women to assume leadership roles. I think the initiative should start with the school curriculum where recruitment of girls to become future energy leaders must be the point of entry for every potential leader.   
The biggest opportunity for women leaders is shaping the narrative to focus on values women add to energy sector reform leadership. I have worked with many women in leadership roles, and they have demonstrated inner strength, vision, resilience, and empathy – these are essential elements of strong leadership. Technology and communication advancement help women thrive in their roles and reach an extensive network of industry game changers.
5. What are some untapped actions the energy and electricity sector could focus on to accelerate change, increase diversity, and foster a better gender balance?
There are many initiatives across the Pacific region aiming to improve gender balance in the energy sector through policy and regulatory reforms to enhance women's rights to equal employment opportunities, workplace health and safety protection, leave benefits, and many more.
The pace has been very slow for the gender balance reform currently underway in our region. Policy commitment must be strengthened and from which actions will trigger the mobilization of resources (human, capital, and infrastructure) to encourage women's participation in renewable energy generation and productive use of energy. In rural communities, repair services are lacking and the energy market for stand-alone home systems may benefit immensely from women technicians. In the utility sector, women engineers can fill in the gap, but policy support is needed in the school curriculum to encourage girls to pursue STEM programs.        
6. What would be your one practical recommendation to mentor or support women starting a career in energy or climate action?
We always underestimate our power and capacity to make a difference. Always believe in yourself and remember your experience is uniquely yours and it may benefit others journeying with you now or following in your stead. Most importantly, it is not always about us but about the future of our girls.  
7. How can women have increased access to finance for entrepreneurial ventures across the breadth of the energy sector to expand energy access in your region?
Access to finance is one of the major stumbling blocks for many Pacific women aspiring to build a business. Many women in the private sector and rural communities do not qualify to even hold a bank account. Consequently, they run their ventures on a day-to-day cash basis. This is a fundamental challenge for women in the region, perpetuated by stringent requirements of commercial and development banks.
Although development banks are explicitly committed to economic development, the practice does not match up to their development goals. Evaluation of existing eligibility criteria is important to ensure that women and marginalized groups have a better chance of opening a savings account and later applying for a business loan. Active participation of women in the private sector builds a foundation for girls to learn and become future entrepreneurs. We must all work together to create a better future for young women to realize their business goals.