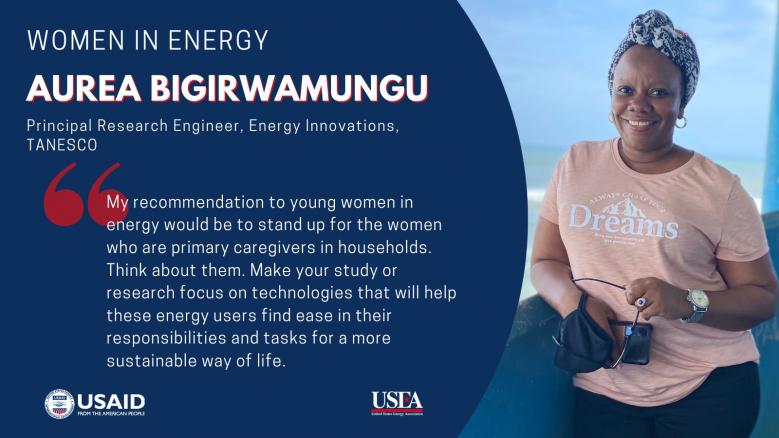 Women in Energy: Aurea Bigirwamungu
The Women in Energy series is a joint project between USEA and USAID to help improve the visibility of women's participation and leadership in the traditionally male-dominated energy sector and their active participation in policies and gender outcomes at their respective organizations and the sector overall.
Every month we feature a woman who has shown exemplary leadership. The women highlighted come from diverse backgrounds and roles, and they bring with them a unique perspective on gender equality within the energy sector. We believe that increasing women's leadership and participation in decision-making for climate policies needs active communications campaigns and championing that catalyze behavioral change and urgent action.  
1. How have both your education and career path led you to where you are now?
My education has really driven my career path. My journey started with ambitions of becoming an engineer. I was inspired by my father who is a retired mechanical engineer.
When I finished my primary education, my parents didn't want me to join a boarding school therefore they took me to a new school in our village which is 1300kms from the capital city Dar es salaam – Tanzania. Of course, I had no choice because I was still young. I joined the Humura Secondary School which had just started operating about two years prior to that. For the first two years, we were able to study for only half of the time, as we had an assignment of collecting water and blocks for the construction of more buildings for our school premises. By that time, we only had three classrooms and no library or laboratory.
Education was difficult because I had to visit a neighboring school to collect extra study material that would help me achieve my ambition of doing well in science subjects. During my last year I successfully did my final exams but unfortunately after a few days all the national exams we appeared for were canceled. We had to redo the exams the following year. The good thing is that when the results were out I was the only girl in my class who was selected to join a technical school to study electrical engineering.
Despite the success of joining the technical school, my wish was to join the University of Dar es Salaam and pursue a degree in engineering. It really didn't matter what the specialization would be. Therefore, I kept telling myself, that I will make sure I try hard in any way possible to achieve my dreams.
After completing my studies in the technical school, I couldn't directly join the university as it required very high passing marks to join the university directly from the technical school in Tanzania. Therefore, I opted to join a high school as a private candidate to undertake an exam in science subjects. But even before the results were out, the University of Dar es salaam announced its intention to support girls who were ready for engineering studies with a two-month comprehensive pre-entry course followed by exams to qualify for engineering courses. By the grace of God and hard work I managed to pass, and I was selected to join the Bachelor of Science in Electrical Engineering as I wished earlier, however it wasn't a critical path as well as a long way.
After I finished my studies, TANESCO announced some vacancies and I applied. Luckily I was called for an interview and I successfully got employed by Tanzania Electric Supply Company Limited as an Engineer trainee and that's where my work carrier began.
During my 4th year as an employed engineer, I managed to take my further studies and was honored with a Master's in engineering management and thereafter a Master's in Nuclear Physics and Technologies. I am now working under the same umbrella and different positions (designations) for about 12 years.
2. What obstacles have you experienced as a woman pursuing an education and career in the energy industry? What obstacles do women vying for leadership spots face in this sector?
Women's priorities may change with age. So when you are finished with the university it becomes a stage when you start thinking of having a family and balancing that with a career. The employer on the other hand would want a young and passionate girl to start working hard and adding children to the mix makes it more complicated. This works against married women who are interviewing for a job in certain firms in my country as employers know that it won't take long for a woman to get employed and start requesting maternity leave.
The same prevents women from accepting management positions, as there is a notion that women have a lot to handle and that can lead to underperformance in the workplace.
3. Technology is transforming the traditional utility business model into a more modern interactive grid. Some utilities view this transformation as an opportunity to focus on innovation and diversity, which research has shown to drive better business performance. How is your organization attracting, retaining, and promoting more women into senior management positions to respond to this industry transformation? Is company data on this publicly available?
Currently, the management of my organization is determined to promote more women into top management positions and target its activities accordingly. They have established the theme of "people first" to achieve the strategic objectives of the organization as well as diversifications of gender with a goal of promoting more women. This information has not yet been publicized yet and is in the weeds.
4. Does your organization or Ministry have a policy for women in energy currently or are you looking at developing one for the future?
My organization has a draft gender policy, which is awaiting approval.
5. What changes in the sector at large do you think have launched more women into leadership positions?
The big change within the sector that has launched more women is the new management focus that has given priority to gender issues. The Managing Director who was appointed to lead the organization came from the private sector and he arrived with a mission of increasing the number of women at the top management levels as some of these women have excelled in their duties.
6. What could be your one practical recommendation to mentor younger women pursuing a career in energy or climate action?
When you think about energy in households, first think about the woman in that home, who is the primary energy end user and will be directly impacted by or benefit from your research. She will be cooking, using the electricity to run the home, and perhaps even a small business. My recommendation to young women in energy would be to stand up for the women who are primary caregivers in households. Think about them. Make your study or research focus on technologies that will help these energy users find ease in their responsibilities and tasks for a more sustainable way of life.