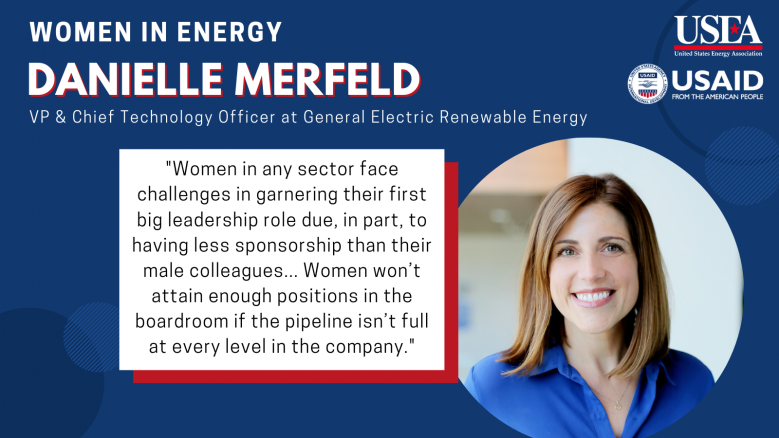 Women In Energy: Danielle Merfeld
The Women in Energy series is a joint project between USEA and USAID that was developed out of USEA's Engendering Utilities Partnership, a program funded by USAID to improve gender policies and gender outcomes at their respective organizations.
Every month we feature a woman who has shown exemplary leadership. The women highlighted come from diverse backgrounds and roles, and they bring with them a unique perspective to gender equality within the energy sector.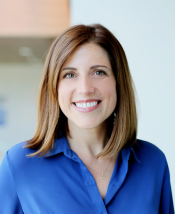 Danielle is the Chief Technology Officer of GE Renewable Energy, reporting to the CEO. In this role, she leads technical efforts to develop differentiated products and services across the broadest renewable energy portfolio in the industry, including onshore wind, offshore wind, grid solutions, solar PV, batteries, and hydro. She also champions sustainability efforts across the business, leading a team focused on achieving carbon neutrality, and leads the GE Renewable Energy Edison Engineering Program. Additionally, Danielle serves as co-leader of the GE Women's Network, a global organization focused on the recruiting, retention, development and promotion of talented women across GE. She was elected to the National Academy of Engineering in 2021.  Danielle was recognized by the New York Capital Region Chamber of Commerce with the "Women of Excellence Award" in 2016, was named "Woman of the Year" by the Cleanie Awards in 2018 and recognized in the top 5 on the 2020 North American Power List.
Prior to her role at GE Renewable Energy, Danielle was the Vice President & General Manager at GE Global Research where she advanced disruptive technology platforms across the industrial sector. As a thought leader in the industry, Danielle has delivered remarks and participated on panels at conferences and symposiums on topics like digital platforms, advanced controls, the energy transformation, the future of renewable energy, grid challenges and solutions, and microsystems.
Danielle received her B.S. degree in Electrical Engineering from the University of Notre Dame, and Ph.D. in Electrical Engineering from Northwestern University. She has authored or co-authored over 70 papers in refereed technical journals and has given presentations at conferences and symposiums around the world.  Danielle is a member of several technical associations and on the Board of Trustees at the University of Notre Dame.  She serves on the boards of Texas A&M University's Smart Grid Center, focused on modernizing the electrical grid; and Advanced Energy Economy, an organization of businesses working to make energy secure, clean, and affordable.  Danielle is also an Ambassador to the Clean Energy, Education and Empowerment (C3E) initiative representing the United States.
*USEA does not alter the substance of the responses from the women featured. The answers are their own.
Women in Energy Interview Questions
How have your education and career path led you to where you are now?
"I went off to college not knowing exactly what I wanted for a career. There were so many things that I liked, and I couldn't imagine picking only one thing to focus on.  Luckily, a combination of a great high school internship, plus hearing that engineers learn how to solve all kinds of problems, led me to choose to study electrical engineering. After four years in school, I decided to get my PhD so that I would have a better chance of being able to pick the problems that I got to work on throughout my career.
My first job was as a researcher at GE's Research Center in upstate New York, which was a lot like working in Willie Wonka's factory with a sweet tooth. There were so many interesting challenges that required advanced technology on topics ranging from LED lighting to advanced medical imaging.
After taking a role focused on Solar PV, I became hooked on renewable energy. I took on roles with progressively more responsibility and developed the ability to learn quickly while highlighting and supporting experts who were developing brilliant ideas. I now have the best job in the world, leading technology development across the most comprehensive renewable energy portfolio in the world. We have the ability to engineer a new future to help the world get on a sustainable path with respect to our climate.  I couldn't ask for a more important or more inspirational challenge to drive my focus."
What obstacles have you experienced as a woman pursuing an education and career in the energy industry?  What obstacles do women vying for leadership spots face in this sector?
"Early in my career, the most common challenge I faced was being taken seriously. Not fitting the mold of a "typical engineer" meant that I needed to put my credentials out there a bit more explicitly when meeting new colleagues or customers. Women in any sector face challenges in garnering their first big leadership role due, in part, to having less sponsorship than their male colleagues. I was lucky to have had early sponsors who not only gave me the chance to step up based on my potential, but also challenged my self-limiting views about career progression. Not to diminish the real challenges that women face in the energy sector where we are still outnumbered roughly 4 to 1 by men (and by even larger margins in leadership positions), but there were times when my biggest obstacle was myself. I felt that I couldn't possibly take on a role where I didn't already have some mastery. I now know that this is ridiculous. Many male peers don't have this same perspective, and more readily pursue roles that they can grow into.  Women should do more of this, and leaders – both women and men – need to encourage and support high-potential women to ensure that this sector pulls from the broadest talent pool possible to build our leadership ranks."
Technology is transforming the traditional utility business model into a more modern interactive field.  Some utilities view this transformation as an opportunity to focus on innovation and diversity, which research shows drives better business performance.  How is your organization attracting, retaining and promoting more women into senior management positions to respond to this industry transformation?
"GE has had a Women's Network since 1997, which now has over 50,000 members. I am a co-leader of this network, focused on recruiting, retaining and developing women to ensure that we have diversity at all levels of the company. Our network has been partnered with the Society of Women Engineers (SWE) for the past 18 years to build a strong pipeline of female talent. We still have work to do, especially in the energy-related businesses, where the percentage of women reflects the broader sector dynamics. However, just last month we published our first annual diversity report sharing key information to drive transparency and accountability. Each business also named a Chief Diversity Officer, and diversity metrics are now part of each businesses operating reviews."
What changes in the sector at large do you think have launched more women into leadership positions?
"I believe that more companies are committed to building a more diverse workforce and a more inclusive workplace in part because recent studies on this topic are conclusive.  The companies that are most successful have built the best teams – ones that bring diverse perspectives to make them more competitive.  Also, many people are drawn to opportunities where they can create positive impact in the lives of people and communities. Combine that with an industry like renewable energy, where brains and work ethic, not muscles, are the prerequisites, and you see a much larger ratio of women – especially in leadership positions – than in the broader energy sector. And lastly, many women who have reached the top are now reaching back to help the next generation."
What are some untapped actions the energy and electricity sector could focus on to accelerate change, increase diversity, and foster a better gender balance in the boardroom?
"Women won't attain enough positions in the boardroom if the pipeline isn't full at every level in the company. Important actions for companies to take include increasing the number of people who feel personally responsible for this change. Increasing gender equality cannot be done only by women, since it is based on things like workplace culture and transparency of metrics. Men play a huge role in this at all levels, from owning the outcome as CEO to fostering an inclusive environment as a colleague.  Business leaders, in particular, need to embed diversity metrics in their operating rhythms – actively developing female talent, taking data to identify key issues, and measuring outcomes."