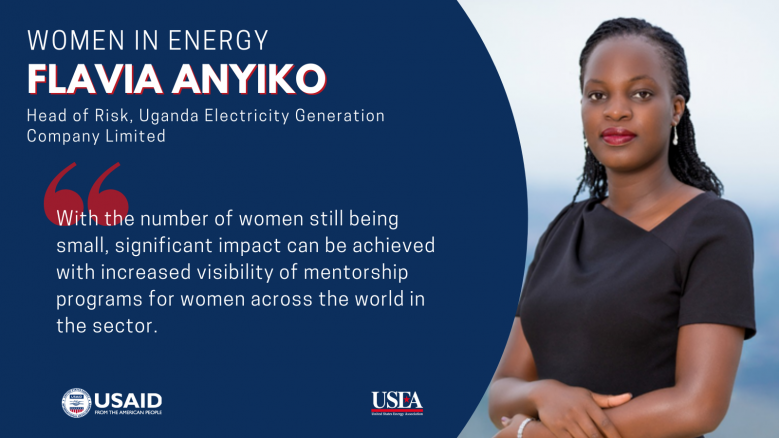 Women In Energy: Flavia Anyiko
The Women in Energy series is a joint project between USEA and USAID that was developed out of USEA's Engendering Utilities Partnership, a program funded by USAID to improve gender policies and gender outcomes at their respective organizations.
Every month we feature a woman who has shown exemplary leadership. The women highlighted come from diverse backgrounds and roles, and they bring with them a unique perspective to gender equality within the energy sector.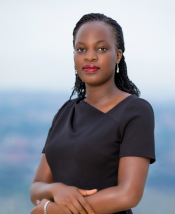 Flavia Anyiko is the Head of Risk Management at the Uganda Electricity Generation Company Ltd and is responsible for the development and implementation of Enterprise Risk management policies, programs, systems and procedures that enhance the achievement of UEGCL strategic objectives. She is an accomplished Civil Engineer and Risk professional whose work experience includes Structural design, Construction Supervision, Compliance and Risk management in both the private and public sector. She values integrity, teamwork and mutual respect and has been able to demonstrate these values in her experience leading multidisciplinary teams to deliver on collaborative tasks.
Flavia is committed to mentoring young people and is a member of the Girls for Girls Project Uganda as well as the Global Women's Network for Energy Transition.

Women in Energy Interview Questions
How have both your education and career path led you to where you are now?
I started out not knowing or expecting to end up a risk management professional. After my high school, I enrolled at Makerere University and graduated four years later with a Bachelor of Science degree in Civil Engineering. Soon after, I joined a Consulting firm as a Graduate Engineer where I learnt and gained experience in structural design, detailing, and construction supervision. After one and a half years at the Consulting firm, I joined the Ministry of Works and Transport as Civil Engineer in the Bridges and Drainage structures division. For the four years I worked at the Ministry, my responsibilities mostly included contract management and construction supervision of the design and construction of several small bridges and drainage projects in rural Uganda. It is while I was at the Ministry that I started and completed a post graduate diploma in Project Monitoring and Evaluation at the Uganda Management Institute, and right after enrolled for a M.Sc. in Transport planning and Engineering at the University of Leeds (UK). Shortly after completing my Master's degree, I joined the Uganda Electricity Generation Company Ltd (UEGCL) as a Senior Materials Engineer at the Karuma Hydropower project. This was a particularly challenging move as it was unlike any of the roles I had previously held. It was the first time I would be based at a remote site. It however turned out to be a great learning and growth experience, and when the opportunity for advancement within the company by applying for the role of Risk Manager came 1.5 years later, I was torn between what I had come to know and enjoy immensely, and an opportunity I knew so little about. Nonetheless, I took the chance and actually got the job as Risk Manager at UEGCL. I was encouraged to take on this role because from my work experience, I encountered several engineering sectors and seemed unable to zero down on an area of specialty since I enjoyed them all. Risk management allowed me to get involved in just about everything; from projects to operations, strategy, finance, procurement, and human resources. For extra adrenaline, the role had only been newly created, and so I had the opportunity to build something the company did not have before. This was both challenging and daunting a task. Needless to say, I have no regrets. I have come to realise that the most important skill for a Risk Management professional is a good understanding of the business. There is no doubt that my career and educational background prepared me for my current role. The Risk Management role at UEGCL has grown, and the company has realized value from the enhanced decision making that has resulted, and I am now the Head of Risk and an IRMCert member of the Institute of Risk Management (UK).
What obstacles have you experienced as a woman pursuing an education and career in the energy industry? What obstacles do women vying for leadership spots face in this sector?
The Engineering industry in Uganda and the world over is no-doubt male dominated. My undergraduate class had 12 ladies and 100 gentlemen. At my first job, I sat in an office of 7 engineers (Directors inclusive) and I was the only lady. The trend has been consistent in all the organizations and roles I assumed, and this is not different from the energy sector. With the number of women in the sector so small and far between, I hardly had any relatable mentors to look up to. This makes it challenging to find your voice as a professional and appreciate the differences in the ways men and women work and how they can collaborate better despite those differences.
When I later found ways to connect with other women, I learnt so much from their experiences and realized that if I had encountered mentorship earlier on in my career, I would have probably progressed much faster. Am therefore keen on paying this forward by mentoring other young ladies that I encounter to share my experiences as well, for their learning. With the number of women still being small, significant impact can be achieved with increased visibility of mentorship programs for women across the world in the sector.
Technology is transforming the traditional utility business model into a more modern interactive grid. Some utilities view this transformation as an opportunity to focus on innovation and diversity, which research has shown to drive better business performance. How is your organization attracting, retaining, and promoting more women into senior management positions to respond to this industry transformation? Is company data on this publicly available?
UEGCL is increasingly becoming a more attractive organization to women in the energy sector, this is perhaps evidenced by the growth in number of female employees over the last 5 years. The company is implementing a non-discrimination policy on gender, and is heavily investing in the training of female staff into leadership oriented roles. In reaction to the technological transformation in the utility business model, UEGCL has also equally extended capacity building to women staff in the non-engineering roles.
The organization has also embraced virtual means of working and remote work arrangements. The focus has therefore shifted more to productivity from engagement and the resulting flexibility is mostly favorable to women as it gives them the opportunity to be productive at work and also attend to their families better. The data is internally available, but yet to be put on the public domain.
What changes in the sector at large do you think have launched more women into leadership positions?
The Government of Uganda has demonstrated gender inclusiveness by increasing the involvement of women at senior levels of leadership in organizations as well as national government positions over the years. The same applies to the energy sector in Uganda where the Ministry of Energy has had female ministers for three consecutive terms. It is my opinion that the unbundling of the energy sector in 2001 also created more opportunities for women to assume leadership position within the sector. The UEGCL board of 7 members has 2 women, one of whom is the Chairperson. Women occupy a number of senior and middle management positions as well, including technical roles such as project management, dam safety, and asset management. However, involvement of women at the C-suite level could still be enhanced through mentoring and coaching.
What are some untapped actions the energy and electricity sector could focus on to accelerate change, increase diversity, and foster a better gender balance in the boardroom?
Organizations need to make the work environment more favorable and adopt flexible policies that enable women pursue their career objectives while also shouldering the family care responsibility that is obviously carried more by women. Flexible and remote work options to both women and men would enhance productivity as employees have some level of control of their schedules.
Organizations could also do more to encourage collaboration and build confidence through leadership training and mentorship programs designed to help individuals explore their potential for growth.
At a basic level, the sector needs to collaborate more with educational institutions to encourage more girls/women pursue the STEM (Science, Technology, Engineering, and Maths) subjects in their educational grounding, since they are favorable for a career in the energy sector.