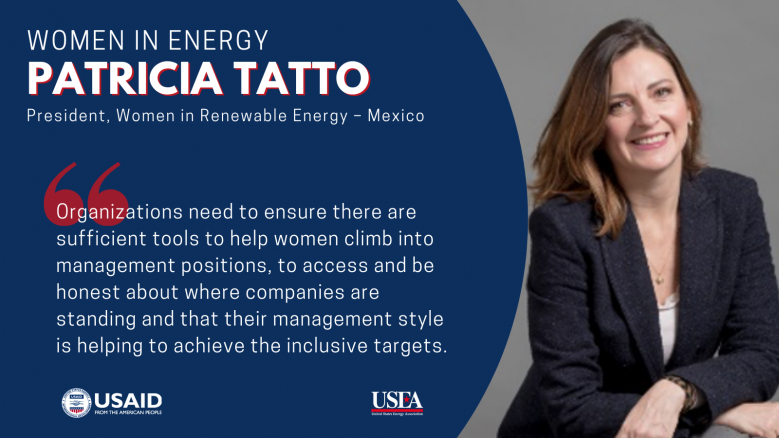 Women In Energy: Patricia Tatto
The Women in Energy series is a joint project between USEA and USAID that was developed out of USEA's Engendering Utilities Partnership, a program funded by USAID to improve gender policies and gender outcomes at their respective organizations.
Every month we feature a woman who has shown exemplary leadership. The women highlighted come from diverse backgrounds and roles, and they bring with them a unique perspective to gender equality within the energy sector.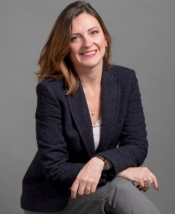 Patricia Tatto graduated with a law degree from the University Iberoamericana with studies in human rights from Birkbeck University in the United Kingdom. Patricia has dedicated her career to developing and driving the renewable energy Industry into the upcoming energy markets, serving as a technical advisor and business guide and creating strategies for the industry in new markets.
As a VP for ATA Renewables in America, Patricia leads a team of renewable energy experts, providing technical advisory, engineering and certification for financial institutions, investment funds, governments utilities, IPP, suppliers, and EPC on the successful implementation of large-scale renewable energy projects.
She is the President and Founder of Women in Renewable Energy Mexico AC, (MERM), a nonprofit civil association in the renewable energy sector with the purpose of empowering women in the field of renewable energy in LATAM.
She is part of the Mexican delegation at W20 official G20 engagement group forming a transnational network of women's organizations, female entrepreneur's associations and think tanks.
*USEA does not alter the substance of the responses from the women featured. The answers are their own.
Women in Energy Interview Questions
How have your education and career path led you to where you are now?
I had the opportunity to grow in a family of independent women. My mum worked since she was very young and she was the first example and inspiration for me, as a role model. At home, I learned that as women we need to be financially independent, able to make our own decisions to have more possibilities in life. In this sense I was always very lucky to have my mum with open ideas, and both of my parents always told me that I will go farther if I have the drive and study a career to be one actor of change in this world.
Since I was very little, I wanted to be a lawyer and to fight for equal rights between women and men. Now if I see my life in retrospect, the topics that I am more interested now – sustainability, renewable Energies, and women rights – all makes sense. I think my passion and my life choices are in my blood. I was kind of a revolutionary, always independent and interested in how we can leave the world as a better place.
Having the encouragement and support of my family was key and finding good teachers and mentors helped me to realize my true potential. Once I graduated in law, I moved to the United Kingdom to experience a different culture and to reach international experience in business, that is how I started working in renewables in a very interesting technology – concentrating solar power (CSP). I was living the dream, producing events and business content for different markets at CSP Today, with one of my mentors in this career, Belen Gallego.
My first experience was learning how a parabolic trough could collect the heat form the sun, then how these technologies were developed in different markets. That was a mind-blowing experience, a magic moment in which I became hooked learning the business side of different technologies of CSP, PV, Tidal, Wind, and slowly became more and more business and technical-oriented and could use my career skills and marketing skills in the international markets that I am currently working on.
Since 2015 I joined ATA Renewables, a lean, independent renewable energy group with more than 140 GW of expertise in projects worldwide. We provide engineering, advisory and certification services for renewable energy, especially solar, wind, energy storage, green hydrogen, and hybridization. Our mission is to help our clients manage risks; ensure excellent performance and safety in their investments. We believe that collaboration is the key to success for the renewable energy industry. We pride ourselves on our flexibility, agility, and customer care.
Back in 2016 in Latam, there wasn't much female presence at the events, so I wanted to connect with those women who worked in the electric and renewables sectors. It was clear that there was a barrier to break to include more women in my area, and together with another 17 women we started a consciousness shift in the Mexican market creating an association where you can feel like a family, grow and share your professional experience with other women: Mujeres en Energía Renovable Mexico (MERM). As a large network of women working to empower and include more women in the field, we were pioneers in Latam for women empowerment and inclusion. That makes me completely happy and fulfilled my childhood dreams.
What obstacles have you experienced as a woman pursuing an education and career in the energy industry?  What obstacles do women vying for leadership spots face in this sector?
I could say that, for me, more than obstacles were challenges to overcome. My true wish was to have more women pairs in our business meetings. Most of our meeting rooms were full of men, the events I use to attend conferences always had very few women in the room, and very few women speakers. Also, I needed friends who could oriented me where I have doubts. When you open a new market there is a lot to learn, and it is key to connect with the right people. Meeting more women was something that motivated me and opened my eyes to the clear need to have a similar floor and opportunities.
I believe there is a huge need to promote STEM careers and to promote the work that a lot of women have done in the industry to pursue more strategic and leadership positions as well as salaries. As women it is key to maintain the balance and growth of any economy. Inclusion of women is a business opportunity and has proven that revenues will increase if more females making business decisions. We are more than half of the population in the world. I believe that a new vision that will allow women to fulfill their potential as needed if women's economic contributions are to be fully and equitably integrated into the global economy.
We need to have access to higher education, mentorship programs, learn about finances, opportunities to work and conditions to help us grow in a work environment. Support needs to come from the public and private sector, society and academia. At MERM we are working hard to push the agenda in the sector and to give a solid step to bring more women up to have equal opportunities and be sustainable, and that is what I am focusing on in the different networks I belong, like MERM and as a delegate of W20.
W20 is the official G20 engagement group focused on gender equity. Its primary objective is to ensure that gender considerations are mainstreamed into G20 discussions and translate into the G20 Leaders' Declaration as policies and commitments that foster gender equality and women's economic empowerment.
Technology is transforming the traditional utility business model into a more modern interactive field.  Some utilities view this transformation as an opportunity to focus on innovation and diversity, which research shows drives better business performance.  How is your organization attracting, retaining and promoting more women into senior management positions to respond to this industry transformation?
ATA Renewables is an advisory and engineering firm with a clear balance of gender. We have several women engineers working as senior consultants and directors, and there is always a possibility and room for more. We have a very flexible and open culture of work our structure allows an inclusive atmosphere in the group of companies, ATA Renewables, ATA Insights, ARENA Power. ATA has support me in every step of my career and encouraged me to found MERM in Mexico and Latam. Our reach is very international, we get to advise the whole value chain in the successful implementation of the projects. The industry knows us quite well for the equal opportunities we provide to our employees.
What changes in the sector at large do you think have launched more women into leadership positions?
The representation of women in senior positions has been increasing over the years, but obstacles persist. In some countries, women have conquered important achievements in the workplace. However, in Latam, historical gender inequalities as far as representativity is concerned persist, especially in senior management and executive positions where women remain a minority, such as C-level and board of directors. Even though our sector is very proactive and there are already several associations that are working towards achieving parity, there is still work to do.
The majority of women do not pursue vice president, president or C-level positions for different reasons, including socialization pressures, lack of confidence, risk aversion, valuing work-life balance or a desire to avoid conflicts. We need to work on self-esteem and confidence, which is why empowerment programs and mentorship are very important.
What are some untapped actions the energy and electricity sector could focus on to accelerate change, increase diversity, and foster a better gender balance in the boardroom?
Organizations need to ensure there are sufficient tools to help women climb into management positions, to access and be honest about where companies are standing and if their style of management is helping to achieve the inclusive targets. Industry certification in gender and inclusion is desirable and pushing for transparent data on salaries to support the creation of internal groups to hear from women needs,
We need to be collaborative to create more female leaders. This work could only be successful if women and men are working together. Men are essential in this equation, and the respect and support from our male pairs is necessary. Our alliances are key. It is key to work closely with schools and universities to push and develop STEM careers as well as other career specializations that also work within the renewables industry.
We must be more inclusive with our networks and working events. Grow out networks and being part of one turns out to be very effective for sorority and support. Create alliances with publications to showcase the work of women and to promote their achievements. Join mentorship programs and raise your voice, women's opinions and knowledge are important to build the future of our society.