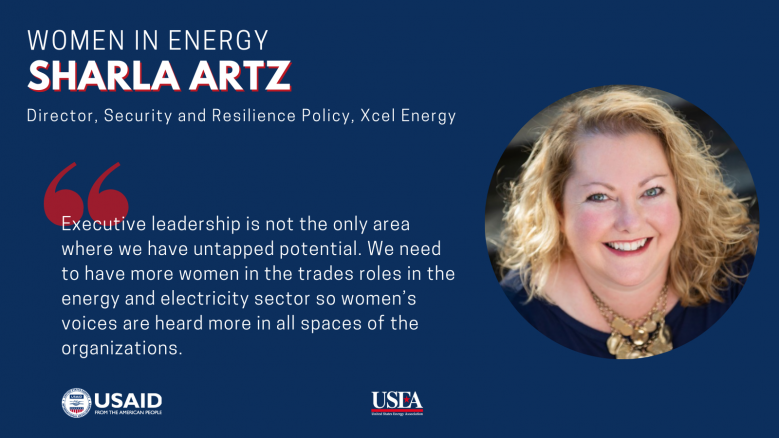 Women In Energy: Sharla Artz
The Women in Energy series is a joint project between USEA and USAID that was developed out of USEA's Engendering Utilities Partnership, a program funded by USAID to improve gender policies and gender outcomes at their respective organizations.
Every month we feature a woman who has shown exemplary leadership. The women highlighted come from diverse backgrounds and roles, and they bring with them a unique perspective to gender equality within the energy sector.
1. How have both your education and career path led you to where you are now?
I went to law school in Washington, DC, because I was interested in public policy. That interest led me to a role on Capitol Hill working for a member of the Energy and Commerce Committee in the U.S. House of Representatives.  The job was demanding and there was considerable staff turnover.  One day, after another staff departure, the three of us remaining literally drew straws to determine who would handle the Congresswoman's energy subcommittee work.  I drew the short straw and I'm so incredibly thankful that I did!  It was through that role that I met thought leaders within the energy space and fell in love with energy policy.  That passion for energy and those individuals helped me at each step of my career. And while I don't practice law, that background and training has made me a more effective advocate for the policies on which I work. At each stage of my career I was able to learn more about our industry and build upon that learning to take the next step in my career.  While at NARUC, I was able to learn about the industry's regulatory requirements.  While working at a startup company, I learned about building use cases for technology to explain value to government partners. While at Schweitzer Engineering Laboratories, I learned the criticality of cybersecurity, protecting critical infrastructure, implementing sound supply chain risk management practices, and using innovation to address rapidly increasing risks to the sectors.  And at Xcel Energy, I'm able to call upon these experiences and learning to further advance the public private partnerships that are so needed to protect our critical infrastructure.
2. What obstacles have you experienced as a woman pursuing an education and career in the energy industry? What obstacles do women vying for leadership spots face in this sector?
I remember being shocked to learn that certain firms or at least certain partners in certain firms still required their female attorneys to wear skirts to work.  This was 1990 and I was appalled that that mentality or environment still existed.  On Capitol Hill, especially being a young woman, it was incredibly difficult to be taken seriously or to find an opportunity to provide input.  It was also challenging to navigate the inappropriate remarks and the patronizing criticisms.  Thankfully, there were many women who had paved the way and who would support you.  Over the years, there were many times where I would find myself being one of a but a few women in the room.  But, I had fantastic mentors – both men and women – who helped me navigate the environment, who gave me opportunities for leadership.  The one that comes to mind is Chuck Gray, former Executive Director at NARUC.  He agreed to sponsor the Women's Council on Energy Environment (WCEE) and when he did, he came to me and said I better put the membership to good use.  Every step of making good use of that membership he supported my work with the organization, including my volunteering to take on leadership positions within the group.  He understood the value not just to me but to NARUC and to women in the industry.
I think women sometimes have a harder time obtaining leadership roles in the energy industry because our leadership styles are different.  It isn't always the case, but when I think of some of WCEE's Women of the Year like Sheila Hollis and other thought leaders in our industry I see women who are collaborative, who reach across the aisle to solve problems, whose egos are often checked at the door, who are incredibly adept at balancing competing needs such as raising a family and making the deadline. I believe there is growing awareness and acceptance about how those qualities are actually essential qualities in good leaders. 
3. Technology is transforming the traditional utility business model into a more modern interactive grid. Some utilities view this transformation as an opportunity to focus on innovation and diversity, which research has shown to drive better business performance. How is your organization attracting, retaining, and promoting more women into senior management positions to respond to this industry transformation? Is company data on this publicly available?
While I have only been at Xcel Energy a short time, I have been so impressed by the company's commitment to diversity and inclusion, including supporting women at all levels.  Xcel Energy is attracting women to the company by working with more partnerships with women-focused groups, both professional organizations and student organizations.  Business Resource Groups like the Women's Interest Network, GROW (for women in our Power Plants) and Women in Nuclear provide valuable networks and resources for women to thrive at Xcel Energy and help us retain that valuable talent.  We have an Executive Sponsorship Program where 35 of our top leaders sponsor an employee diverse from themselves.  The program is focused on providing access to executives that wasn't always there for those in the program.
4. What changes in the sector at large do you think have launched more women into leadership positions?
I think there has been increased emphasis and focus on encouraging girls to pursue degrees in STEM fields. There have also been advances in equitable policies and practices within our industry that support women.  This focus has also been evident within technology companies that are transforming our industry.  The industry has also been focusing on issues that have previously kept women from advancing in corporations – focusing on bias, childcare policies, educational and training opportunities.  I know our company and many others in the industry have worked to ensure that all components of an employment process are fair and equal for all.  And, the trailblazing that has been done by so many thought leaders in our industry that are women – they serve as examples of leadership that prop the rest of us up and also inspire younger women to pursue careers in our industry. 
5. What are some untapped actions the energy and electricity sector could focus on to accelerate change, increase diversity, and foster a better gender balance in the boardroom?
People are our strongest asset and workforce development programs specifically built for leadership positions aimed at women will help us ensure more women leaders in our industry. Executive leadership is not the only area where we have untapped potential.  We need to have more women in the trades roles in the energy and electricity sector so women's voices are heard more in all spaces of the organizations. We should also be identifying opportunities for guest lecturing in college and post grad education. I know when I've been asked to help build panels, workshops, and educational summits, one key goal is to ensure that panels are diverse.  There are so many innovative, unique voices that we should amplify and listening to those voices during these events will help us all get better.  And, because it has been such an important part of my personal and professional development, we have to keep encouraging mentoring programs and opportunities for all – these programs are good for both sides of that mentoring relationship.  Given how many challenges we face, the more we do to incorporate all the voices, the better off we will all be.