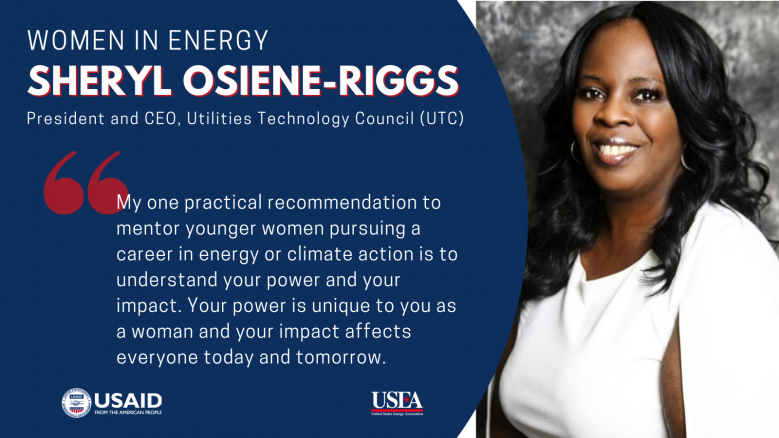 Women in Energy: Sheryl Osiene-Riggs
The Women in Energy series is a joint project between USEA and USAID to help improve the visibility of women's participation and leadership in the traditionally male-dominated energy sector and their active participation in policies and gender outcomes at their respective organizations.
Every month we feature a woman who has shown exemplary leadership. The women highlighted come from diverse backgrounds and roles, and they bring with them a unique perspective on gender equality within the energy sector. We believe that increasing women's leadership and participation in decision-making for climate policies needs active communications campaigns and championing that catalyze behavioral change and urgent action.   
1. How have both your education and career path led you to where you are now?
Let me start by saying I do not believe in coincidences.  However, my education and career path were never focused on the energy sector. It was always focused on serving people.
I will try not to start at the beginning, but I grew up in Brooklyn, NY, and I have always excelled and enjoyed school.  My father was a teacher, and my mother was a nurse. My great-grandmother was born in 1902 in Alabama and received a 6th-grade education.  She was one of the wisest and kindest people I ever knew. She was instrumental in instilling in me the importance of education. My early career aspirations were to become a civil rights attorney to serve the voiceless unseen people. I also loved math; however, I wasn't quite sure what I was going to do with that joy.  Nevertheless, I graduated high school in the 97th percentile and I went to Howard University. I chose the School of Business because I knew I was going to law school. However, I began working part-time at Citibank in my sophomore year and a lightbulb went off to pursue accounting.
Upon graduation, everyone was wondering what law school I would attend. However, I decided to stay at Citibank, and I began my career in accounting. Later I decided to obtain a master's degree in accounting and another in human resource management. By the time I entered the energy sector, which was unknown to me, I had already worked in the financial, higher education, private, government, nonprofit, entertainment, and medical industries. In order to learn quickly to add value and not just push paper around, I had to take previous experiences and tie them to current experiences.  As I now say, quite often, "connect the dots." UTC made me feel hungry for knowledge about this critical energy industry. Although I have outlined, very broadly, how I arrived at my current career path in energy I cannot begin to tell you where the journey is going to end. I am proud and clear about one thing, as a woman who works in the energy sector, I am serving underrepresented and underserved people communities across the country. I am glad that the energy sector found me!
2. What obstacles have you experienced as a woman pursuing an education and career in the energy industry? What obstacles do women vying for leadership spots face in this sector?
I am not sure where to start with this question. As people with different backgrounds, beliefs, and upbringings, we face challenges every day.  As a minority woman, I face challenges that believe it or not are not unique to me.  I feel like I am stating the obvious, but I face the challenge of being misunderstood and underestimated.  That is a challenge because before I can state a suggested business solution, I feel like I have to justify why I am in the room. This is regardless of whether it's my 1st or my 100th time in the room.  It's challenging and sometimes frustrating, but I try to remember it's an honor, a privilege, and an opportunity to be in the room and that someone paid the price so that I could be there.  To be very direct, some of the challenges are isolation, being ignored, being paid less, inequity across the board, limitation, and intimidation.
Women that aspire to be leaders in this sector should learn to be leaders in their life, no matter what position they hold. The biggest obstacle is yourself. Believe in yourself, get comfortable with yourself, and no matter what someone else says know yourself. This sounds simple but it comes with strength building, faith, fortitude, humility, and learning how to get up when you get knocked down. If you get this principle, the other obstacles will seem like mere distractions that deserve your attention.
3. Technology is transforming the traditional utility business model into a more modern interactive grid. Some utilities view this transformation as an opportunity to focus on innovation and diversity, which research has shown to drive better business performance. How is your organization attracting, retaining, and promoting more women into senior management positions to respond to this industry transformation? Is company data on this publicly available?
First, let me say proudly that our company data is publicly available. As an association with utility members that serve our entire nation, it is our duty to follow a business model that focuses on innovation, technology, equity, and diversity. Our association attracts, retains, and promotes women in senior management positions by advertising on different platforms, implementing interview practices that are gender neutral, creating a culture that is inclusive and attractive to different lifestyles, evaluating our pay and benefits to ensure equity, and encouraging employees to grow and take advantage of endless growth opportunities.
4. What changes in the sector at large do you think have launched more women into leadership positions?
There are too many changes and initiatives that have launched women into leadership positions to mention. I believe many of the changes were simply made by people, men, and women, who gave women like me an opportunity to showcase talent in a leadership role.  I want to amplify that comment because I cannot applaud the UTC Board of Directors, which was led by Greg Angst of CenterPoint Energy at the time I was hired. Mr. Angst was the UTC Board of Director Chair and Vice Chair Kevin Huff, SRP, along with the rest of the UTC Board appointed me their 3rd female President and CEO, and 1st African American President and CEO.   They were forward thinking for UTC, the industry, and simply for humanity and I will always say they deserve all the credit because if no one opens the door, equity will never enter.
5. What are some untapped actions the energy and electricity sector could focus on to accelerate change, increase diversity, and foster a better gender balance in the boardroom?
With the workforce crisis in the energy sector, we can't afford to leave any untapped actions. We must accelerate change, increase diversity, and foster a more diverse population in the boardroom. I often try to remind people that diversity goes beyond gender and race. Disabled individuals, veterans, people reentering society, and others not represented are the untapped human resource that we need for our future workforce to develop and deploy the technology solutions of tomorrow. It will require collaboration to reach and connect to the groups that the sector needs to accomplish the goals. There will be many roads, however, we cannot lose sight of the goal. The goal is a better, more efficient, cleaner, sustainable world that the energy sector will create.
6. What could be your one practical recommendation to mentor younger women pursuing a career in energy or climate action?
My one practical recommendation to mentor younger women pursuing a career in energy or climate action is to understand your power and your impact. Your power is unique to you as a woman and your impact affects everyone today and tomorrow. Please think and pray for you, your sister, and your brother, and use your superpowers wisely, equitably, and thoughtfully.