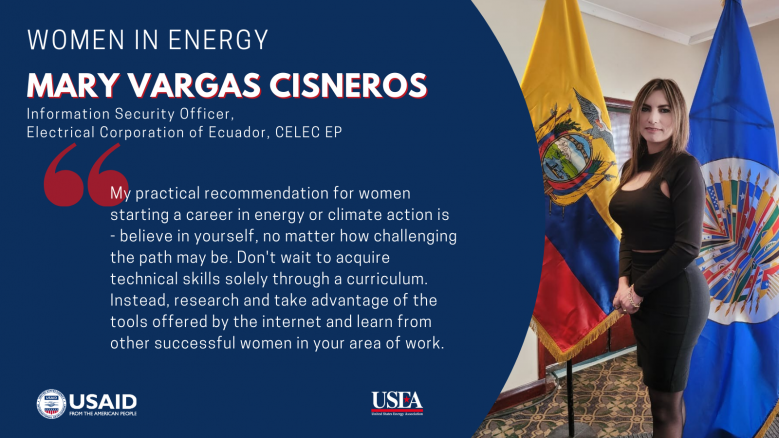 Women in Energy: Mary Vargas Cisneros
The Women in Energy series is a joint project between USEA and USAID to help improve the visibility of women's participation and leadership in the traditionally male-dominated energy sector and their active participation in policies and gender outcomes in organizations.
Every month we feature a woman who has shown exemplary leadership. The women highlighted come from diverse backgrounds and roles, and they bring with them a unique perspective on gender equality within the energy sector. We believe that increasing women's leadership and participation in decision-making for climate policies needs active communications campaigns and championing that catalyze behavioral change and urgent action.
1. Do you feel that your education and career path led you to where you are today? Were there mentors and cheerleaders along the way?
Without a doubt, education played a very important role in my growth. Professionally, it offered me the necessary knowledge to enter the world of cybersecurity and improve my skillsets. However, knowledge is just another weapon to achieve objectives with perseverance, dedication, and passion to carry out each activity with ownership to reach where I am now. In addition, it has been very important and enriching to participate in cybersecurity professionals' groups, where we have shared ideas and experiences, which have allowed us to expand our knowledge. I do not want to overlook the blessing I had of having two mentors who shared with me their experiences and knowledge as well as the appropriate advice and counseling which has been fundamental when facing new challenges in cybersecurity. In summary, education, professional networks, and career groups; have been pillars in my path and commitment to continue improving and supporting more professionals in this exciting world of cybersecurity.
2. What in your view are some of the unique or complex challenges that women face when vying for a leadership position in the energy sector/sustainability? Are there any effective strategies to address these?
For decades the energy and sustainability sector has been male-dominated with its associated prejudices and stereotypes. This has resulted in the lack of female representation in leadership positions who are constantly fighting obstacles to advance their careers and get access to better job opportunities.
In my experience, one effective strategy to address these challenges could be:
Women should join professional networks where they can share their ideas, and experiences, increase their knowledge, and be part of the solution of emerging challenges.
Carry out awareness campaigns to sensitize society at large about the roles that a woman can fulfill in the energy and transportation sector and sustainability overall.
Seek out female mentors who have overcome similar challenges and can guide young women by sharing their knowledge and experience.
Encourage recognition of the work and achievements of women, who have achieved remarkable success and have contributed through different specializations across the energy and sustainability value chain.
3. How does your organization support women's empowerment and advance gender equality through its energy-related work?
Fortunately, CELEC EP is led by professionals who recognize the work of women within the organization and perceive it as valuable in the organization. Women have been empowered to various leadership positions and there has been support from the senior management. In this sense, women have been empowered in various leadership positions and there has been sustained support from the senior management so that various initiatives on female empowerment are implemented without problems with sufficient resource allocation.
4. How is your organization attracting, retaining, and promoting more women into senior management positions to respond to the current industry transformation? Is company data on this publicly available?
CELEC EP is a leader in social inclusion, gender diversity, and in digital transformation. One of its institutional objectives is to "Increase the level of digital transformation in the organization. To achieve this objective the organization promotes female participation at the helm of this important work. So much so that the Technology and the Head of Internal Control, Risks, and Information Security (Cybersecurity), are led by led by women who have the support of senior management.
One of the ways in which the organization has promoted and retained its female staff in these leadership positions is by providing support for the execution of their initiatives and ensuring that CELEC EP personnel comply with the definitions set forth by the relevant management. CELEC EP also has communication channels such as the "Cinética Magazine," published monthly, where important topics of the organization are addressed, and due emphasis has been placed on activities related to Information Security and Digital Transformation.
5. Embracing what changes in the sector at large do you think will launch more women into leadership positions? What according to you are some of the biggest opportunities for women leaders in the sector today?
In recent years, there has been an increase in the presence of women in technical and leadership roles nationwide in Ecuador. Particularly in the energy sector, the inclusion of women in senior management positions has been evident. This has been promoted at the national level for some years, encouraging women's participation in all sectors. However, achieving gender equality and harnessing the full potential of women in various positions remains a societal goal.
Some of the changes or improvements that could be made to encourage women to take on leadership roles include:
Designing an equitable approach early on, promoting young women to leadership roles and offering them mentorship support from female leaders as role models can help them.
Creating government policies and gender equality programs related to salary and benefits.
Recognizing female leadership and various achievements, both within organizations and nationally across different fields, will incentivize other women, especially young women, to strive for excellence.
In my experience, some of the opportunities that women have in the energy sector include:
Driving technological innovation: In this rapidly evolving world of technology, women should be invested in projects that improve the tech infrastructure within organizations.
Promoting the implementation of cybersecurity in the energy sector: Currently, this is a new sector with few women contributing actively. This presents a great opportunity for women to enter this field and stand out with projects that contribute to the protection of industrial systems.
Leading collaborative women's groups: Teamwork and the sharing of knowledge and resources significantly contribute to professional growth, both for individuals and organizations. Therefore, leading such groups allow leaders to showcase their experience and skills while being valuable to society.
Promoting digital transformation: Women can excel by driving disruptive projects that digitize industrial systems, improve management outcomes, and make significant contributions to society.
Advocating awareness and education: Women can contribute to a culture of change at the individual and organizational level especially in hiring practices to get more women onboarded in the energy and sustainability sectors.
6. What would be your one practical recommendation to mentor or support women starting a career in energy or climate action?
My practical recommendation for women starting a career in energy or climate action is - to believe in yourself, no matter how challenging the path may be. With knowledge, effort, and dedication, you will achieve your goals. As a parallel action, alongside confidence, seek out every opportunity to increase your knowledge in this field. Don't wait to acquire technical skills solely through a curriculum. Instead, research and take advantage of the tools offered by the internet and learn from other successful women in your area of work.