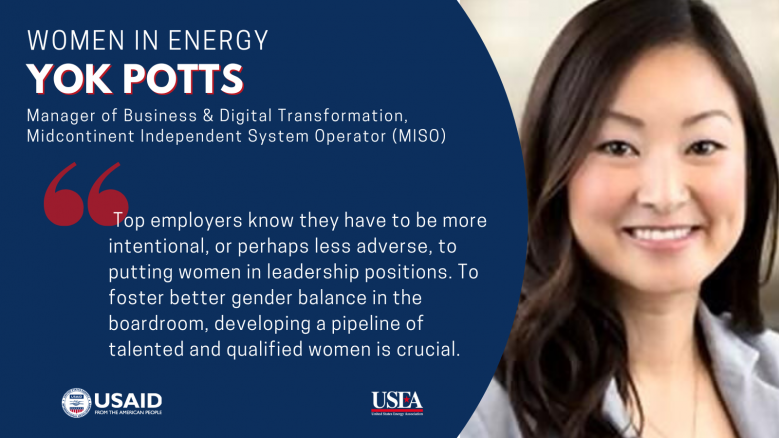 Women in Energy: Yok Potts
The Women in Energy series is a joint project between USEA and USAID to help improve the visibility of women's participation and leadership in the traditionally male-dominated energy sector and their active participation in policies and gender outcomes at their respective organizations.
Every month we feature a woman who has shown exemplary leadership. The women highlighted come from diverse backgrounds and roles, and they bring with them a unique perspective on gender equality within the energy sector. We believe that increasing women's leadership and participation in decision-making for climate policies needs active communications campaigns and championing that catalyze behavioral change and urgent action.   
1. How have both your education and career path led you to where you are now?
The diverse experiences in my life have truly been the building blocks of what I do today. My curiosity, which led me to explore an undergraduate in business and hospitality, ultimately led me to get a Bachelor of Science in Electrical Engineering. I was working at Marriott while going to school and helping open new hotels before I got a job as a contractor at the Midcontinent Independent System Operator (MISO). The role required a combination of engineering and business background to help with the Reliability Subcommittee work after the 2003 Northeast Blackout.
I started working in the MISO control room and was fascinated by the complex and rewarding work. I pursued a full-time role and was hired as an on-shift system engineer building models, running reliability studies, and creating overview displays for the bulk electric system. Shortly after, MISO began its market operations in 2005 and I transitioned to help with the market design, testing, and implementation of the ancillary services market. Ultimately, I went back to school for my MBA and participated in the university's international seminars in India, Dubai, Chile, Argentina, and Brazil.
This paved the way for me to become a shift lead for the reliability assessment and commitment team, which led me to truly appreciate the forecasting needs and say yes to an opportunity to manage the forecasting department – traditionally load/demand but with a growing portfolio of renewable resources on the system. It was in this role, that the world seemed to open, and I found myself again fascinated – with the complexity and rewarding work across the various industries and partnerships that are part of a deeper understanding of operational forecasting. Looking to advance in my career, I took on the role of manager of the Financial Transmission Rights (FTR) Market which is, in the simplest terms, forecasting the transmission side of the electricity markets. Building up this incredibly talented and diverse team enabled us to unlock synergies and more capabilities and insights.
During the pandemic, I was asked to establish and lead the newest employee resource group (Global Citizens) focused on enriching employee experiences with both international and local cultures. Now, I'm managing a team in MISO's Business & Digital Transformation space that utilizes another aspect of my MBA.
These experiences, along with partnerships through the US Energy Association, have created more opportunities to collaborate and share industry best practices, locally and internationally, as we all work to build a more sustainable future.
2. What obstacles have you experienced as a woman pursuing an education and career in the energy industry? What obstacles do women vying for leadership spots face in this sector?
First, I want to recognize all the women trailblazers and all the men who championed them. Otherwise, there would be many more cultural obstacles to overcome. Also, I want to recognize the women along the journey with me and I expect that those that follow will have a smoother journey. Obstacles are opportunities to learn and grow. Most can be overcome with perseverance and collaboration.
In a male-dominated industry, one of the obstacles I've observed is that we as women, have to work harder to prove ourselves and build trust in our abilities. Historically there have been fewer women in this industry, and therefore fewer role models to seek advice. In 2004, when I started at MISO, women represented about 23% of MISO employees. Now, we represent about 31%. This means that I need to do my part to be that role model and help others see more opportunities that may not have been as obvious previously.
Additionally, in Asian culture, we're brought up to let our work speak for itself. It can be more challenging to express our achievements in a way that doesn't feel braggadocios. One of the differences observed between western and eastern cultures is an "I" versus "we" mindset. This is another obstacle I have worked to overcome by advocating for myself and sending clear signals about my career goals.  
I often seek advice from other women and enjoy investing myself by mentoring others starting in the industry or their careers. 
3. Technology is transforming the traditional utility business model into a more modern interactive grid. Some utilities view this transformation as an opportunity to focus on innovation and diversity, which research has shown to drive better business performance. How is your organization attracting, retaining, and promoting more women into senior management positions to respond to this industry transformation? Is company data on this publicly available?
MISO has been on a Diversity & Inclusion journey for several years now, and the very first employee resource group (ERG) was established as the Women's ERG. Significant progress has been made with more women in senior management, notably at the Board of Directors and VP levels where about half are represented by women now.
Additionally, there are other employee resource groups that help provide diversity in thought most of which are currently led by women now. We have the Advancing Modern Professionals group developing the next generation of employees, the Community Service group bringing employees together to serve our communities, the EmPower group guiding us on African American culture, the IDEA group building the collaborative community of data and system experts, and the Global Citizens group focused on diverse international and local cultures to advance the workplace. There are more opportunities ahead, and I find fulfillment in helping lead the charge.
Like many employers in this unique labor market, MISO is working to attract, retain and promote top talent, and we're having to get creative to do it. We have a robust internship program that brings in new talent, many of whom go on to enjoy a long-lasting careers. We also look for ways to attract others to the organization by seeking employee referrals and building partnerships with diverse networking groups.
4. What changes in the sector at large do you think have launched more women into leadership positions?
For me, there were a couple of key changes I observed. One, more organizations understand the value of having diversity at all levels. Top employers know they have to be more intentional, or perhaps less adverse, to putting women in leadership positions. Additionally, when these trailblazing women of merit reach higher levels in leadership, it paves the way for more women to enter leadership roles. The second, and complementary, change is more women in the energy industry. This diversity of thought leads to greater and positive outcomes in organizations.
5. What are some untapped actions the energy and electricity sector could focus on to accelerate change, increase diversity, and foster a better gender balance in the boardroom?
Some untapped actions in the energy and electricity sector may be increasing mentoring, looking for interns from diverse universities, and working in their local communities to promote STEM programs for girls are a few things that can help accelerate this change.
To foster better gender balance in the boardroom, developing a pipeline of talented and qualified women is crucial. MISO has an internal Women in Leadership group as well as a Women's Resource Group to help expand the knowledge, skills, and abilities of qualified women and sustain our organization and industry for years to come.
6. What would be your one practical recommendation to mentor younger women pursuing a career in energy or climate action?
As you're building your business acumen, build a network of diverse and trusted relationships. These can prove to be valuable in various stages of your career. Find people who will mentor, calibrate, and be honest enough to challenge your perspective when needed as you grow and develop.